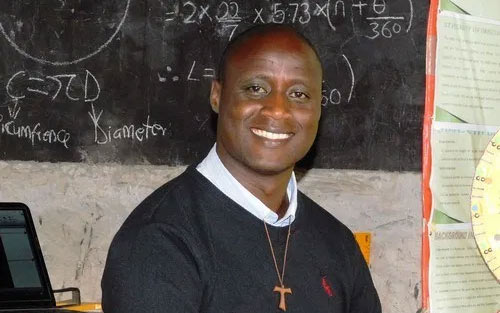 Global Teacher award winner Br Peter Tabichi graced the opening of the US Congress as a guest Chaplain, opening the session with a prayer for peace.
Following an invite, which is part of his itinerary in the US, Tabichi graced the congress, opening the session with Fransiscan Prayer for Peace.
"It was a privilege and honour to open the US Congress with the Franciscan Prayer for peace at the Capitol, Washington DC," Tabichi said.
The Franciscan Prayer of Peace, is one of the popular prayers across the world that brings out the harmony between words of the prayer and the generous joy-filled, peace-loving spirit of Saint Francis of Assisi.
The prayer underscores the principles of going first but calls for humbling and seeking for forgiveness.
Read More
Often associated with the Saint Francis of Assisi, the peace prayer shot to fame during both World War I and World War II and has been frequently set to music by notable songwriters and quoted by prominent leaders.
Mother Teresa of Calcutta made the prayer part of her morning prayers and is said to have cited it the prayer when receiving the Nobel Peace Prize in Oslo in 1979.
The prayer has since become an anthem in many Christian schools in Kolkata.
Closer home, South Africa's Anglican Archbishop Desmond Tutu and the winner of 1984 Nobel Peace Prize for his non-violent leadership against Apartheid, declared that the Peace Prayer was an integral part of his devotions.
After winning UK general elections in 1979, Margaret Thatcher paraphrased the prayer.
The Congregation of Franciscan Brothers, to which Brother Tabichi belongs, is an International religious organization of the Catholic Church whose main focus is to empower the rural poor through education, sustainable agriculture and peacebuilding.
Mr Tabichi, is part of the Fransiscan brothers in Nakuru and teaches at Keriko Day secondary school, a remote school in Njoro, as per the vows.
According to Brother Bernard Kirui, a Brothers' trainer, becoming a Fransiscan Brother is a journey that takes several years before one is fully accepted into the congregation of Brothers.
"It starts with aspirations, and education, too, is key. One must have completed high school and attained a grade that will enable him to get a slot in university or college. When one attains that, they are allowed to live with Brothers for a year so that they gauge if they can manage that life," Brother Kariuki says.
If they manage to live and are still aspiring, they are put under another two years of training. If they cannot, they are let to go. In the first year, known as Canonical year, they attend workshops and trainings, church services and even enroll in college.
Brothers live by three Vows-Obedience, Chastity and Poverty.
"Fransiscan brothers live through the lives of Francis of Asisi and are geared towards empowering the rural poor. Brothers are deployed to rural areas in arid and semi-arid where they are supposed to work besides ministering," Brother Kariuki said.