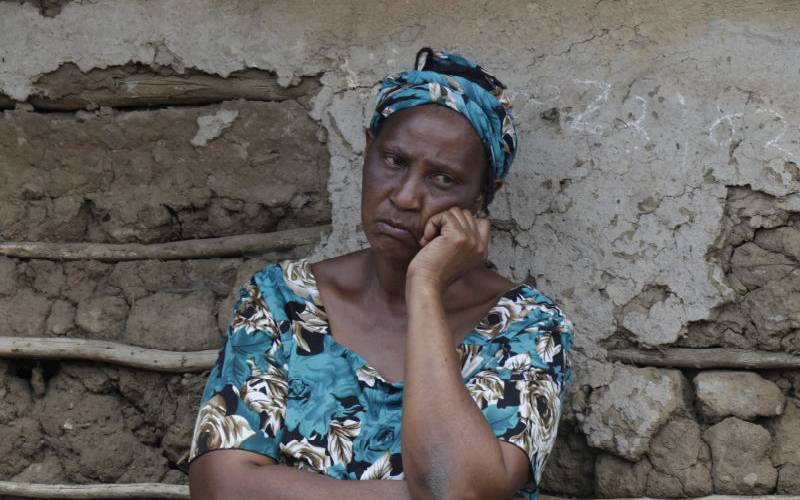 A family in Njoro has accused the Kenya Defence Forces (KDF) of neglecting their depressed 30- -year-old son battling a mental illness after deployment in war-torn Somalia. Second Lieutenant John Njoroge, 30 (pictured) joined KDF after graduating with a military science degree and commissioned as an officer at the Kenya Military Academy, Lanet in 2014. According to his mother, Joyce Wangari, Njoroge, who scored an A- in his Kenya Certificate of Secondary Education (KCSE) examination, brought a ray of hope to the family after he joined the military. "Whenever he came home after commissioning he showed commitment to serve in the military. He provided financial support to the entire family and his own," she said.
SEE ALSO: KDF probes aircraft crash in Somalia after 10 soldiers injured
According to documents seen by The Standard, Njoroge was among the Kenyan troops deployed to Somalia between December 2016 and January 2018 under the African Union Mission to Somalia (AMISOM) Then the attack on Kenyan soldiers by the Al Shabaab at Kulbiyow camp happened, and Njoroge was never the same again. The second lieutenant was among the survivors of the January 27, 2017 attack that left at least 68 of his colleagues dead and scores injured. The family noticed something was wrong as soon as Njoroge returned home. "He was well until after that attack. When he came back home from the deployment, we started noticing change in behaviour. He would fight with anyone including myself and later apologise," said Njoroge's father, Peter Mwangi.
SEE ALSO: Seek permanent solutions to border disputes
After his return from the Somalia assignment, Njoroge was attached to the 20th Parachute Battalion based at Kenyatta Barracks in Gilgil. In October 2018, he went home and informed his family that he had been given a three-month leave and would report back to work in January 2019. It was then that the family realised that their son had changed. "When he arrived home he was calm. The next morning, he broke 12 glass windows of a house he built for us. He threatened to kill his wife with whom he had one child. His wife left with the child," said his father. The family reported the matter at Njoro Police Station where he was referred to the Military Police who picked Njoroge and took him back to Kenyatta barracks. "We were promised that he would be taken to Defence Forces Memorial Hospital. Days later he informed us he had been transferred to Embakasi barracks. We thought this meant he had recovered," said his mother.
SEE ALSO: Top CEOs optimistic of economy rebouncing
The family was wrong. Months later, a friend spotted Njoroge wandering on Nairobi's streets looking confused and lost. He was wearing one shoe. The friend called Njoroge's parents who asked that he be taken to Nakuru from where they picked him. "I took him back to Gilgil barracks and was promised he would be taken care of. Days later he showed up at home in his own car," said his father. But all was not well. On arrival, Njoroge stormed his elder sister's eatery and splashed boiling cooking oil on her. Her sister managed to escape unhurt. In March this year, Njoroge, whose bouts of anger have continued to worsen, stabbed his brother twice in the abdomen nearly killing him. The family then reported the matter to the military in a letter dated March 30: their son had become a danger to them and to himself. "Our son's condition has been worsening. He has become alcoholic and and violent towards anyone he comes across. We are now mentally tortured," the letter read in part. The family called on KDF to take Njoroge and rehabilitate him saying that they gave the government a healthy son but got back a broken man. When reached for comment, the Department of Defence (DoD) said that Njoroge's contract with the military was terminated before his condition worsened. "2 Lieutenant (Rtd) John Njoroge Mwangi is no longer serving in the Kenya Defence Forces. His Commission was terminated in August 2018 on disciplinary grounds. During his time in service he did not exhibit any signs of psychological disturbance," read part of the response from DoD. His parents however said they were not aware that their son had been fired. "You are the first person to tell us that our son was fired. Why didn't the military inform us? If he was fired, that could have even worsened his condition," said his father. Asked on whether there was any plan to assist the family the DoD responded: "2 Lt (Rtd) Mwangi is no longer serving in KDF."