Pupil, 14, who hang self after period shame at school buried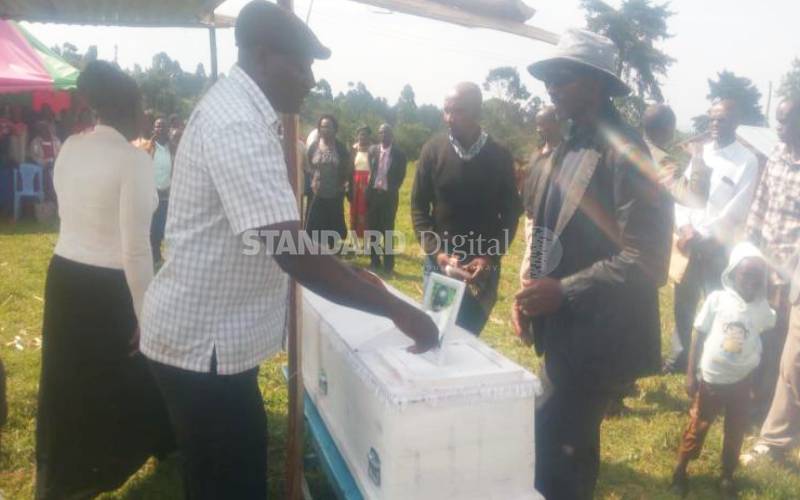 The girl reported to have committed suicide after a teacher humiliated her for soiling her dress was buried on Saturday amid calls for free sanitary towels in schools.
Jackeline Chepng'eno, who died aged 14, was buried at Kiptewit Village in Bureti Constituency in an emotional ceremony that also reunited her estranged parents, Robert Kirui and Beatrice Kirui, after years apart.
The Standard Six pupil at Kabiangek Primary School had been living with her maternal grandparents in Kabiangek village in Bomet County.
An old pick-up truck that ferried her body from Kapkatet Hospital mortuary was one of the three vehicles in the funeral procession that had local boda boda riders flanking it as outriders.
When the cortège arrived in the compound, the white coffin was taken to a newly constructed tiny mud-walled house. Chepng'eno's body "rested" there for a few minutes.
Hundreds of mourners stood and observed a minute of silence as the pallbearers brought the coffin out of the house and placed it under a shade for the funeral service.
However, there was a hitch, and mourners had to wait a little longer to listen to Chepng'eno's eulogy because in the haste of organising the girl's funeral, her family forgot to write it.
"Though we loved Chepng'eno dearly and wouldn't have wished her to take her life, I would like to thank her since her death has reunited her parents. My daughter-in-law had left her house for far too long," said Chepng'eno's grandfather David Lang'at.
"I want my son and his wife to now learn to live in peace and harmony. Don't be too quick to involve busy bodies in your marital affairs, including the chief. I welcome my daughter-in-law back," he said.
Chepng'eno's mother extended an olive branch to the teacher said to have provoked her daughter's suicide.
"What I really want is to see the teacher and talk to her so that my aching heart can heal," she said.
Teacher's role
Among the mourners was area MP Kiptergech Mutai, who called on the Ministry of Education to investigate the role of Chepng'eno's teacher in her suicide.
"One of Chepng'eno's teachers has been adversely mentioned as being the reason why she committed suicide. The Ministry of Education must come out clearly on the allegation. No other girl should be period-shamed ever again," he said.
Mr Mutai called on the teacher to come out and clear her name.
"Chepng'eno's family would like to hear her version of the story and if she proves that she is blameless, the story will end there. If not, she will have to undergo traditional rituals, lest the death returns to haunt her children," said the Bureti MP.
The MP also called on the Government to compensate Chepng'eno's family.
"The Ministry of Education should take full responsibility," he said.
According to the MP, Chepng'eno's death highlighted the need for the Government to supply free sanitary towels in schools.
"Sanitary towels should be made readily available. The ministry has been allocated adequate funds to include the provision of the items as part of the free education. In essence, we should not be having schools without sanitary towels," he said.
Mutai called on the Ministry of Education to ensure all teachers underwent refresher courses to understand girls who reach puberty.
Human rights activist Lillian Cheptiony condemned the poor state of Chepng'eno's school and appealed to Education Cabinet Secretary George Magoha to visit it.
"The classrooms do not have windows. Cows sleep in one of the classrooms. Some of the teachers have overstayed there," she said.
Mrs Cheptiony, who drew media attention to Chepng'eno's death, accused Education officers in Bomet of plotting a cover-up.
"They are yet to interview Chepng'eno's parents. They have also been threatening me, but I will not be intimidated for fighting for the rights of girls," she said.
"I will even write to President Uhuru Kenyatta to order investigation into Chepng'eno's death," she said.
During the burial, Gertrude Chepkemoi of Golden Heart Foundation announced that the organisation would distribute sanitary towels at Chepng'eno's school.