Two camel races give hope to schoolgirl seeking school fees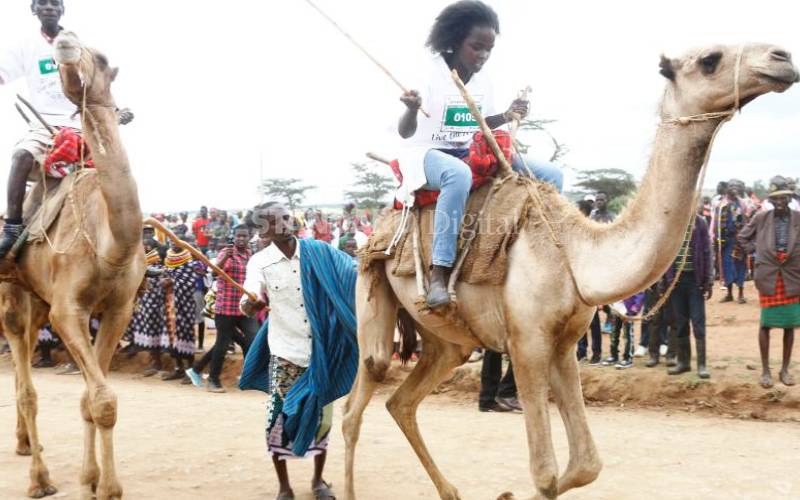 Vanila Lesooni, 15, smiles shyly at the glaring cameras as she goads her camel to the starting point for the Maralal International Derby.
Her tiny stature doesn't diminish her resolve to win even as she appears to attract more attention amid the other competitors who are exuding confidence.
Vanila, registered for the yearly camel derby on Saturday, becoming the youngest competitor to participate in the 10km amateur category and later in another 21km race.
Her aim was to raise school fees.
The Form Two student at Moi Girls, Samburu looked unshaken and unswayed by the attention she was getting ahead of the races.
"I want to raise my third term school fees," she whispered, still tapping her camel gently as if to calm it as her mother Antonia Lesooni looked on, constantly whispering to her before the first race began.
Traditional songs by women to cheer competitors added pomp and colour to the event.
Vanila is the second born in her family. And as fate would have it, she has challenges raising Sh11,400 school fees for third term and decided to join the competition, hoping to win a cash prize.
International participants
"It is not easy to raise school fees. My parents have been trying their best but challenges are still there. Through this derby, I know I will raise part of it or even full amount," Vanilla said before the race.
Her participation was, however, not the first. She joined the race for the first time in 2015 when she was 11 and still at Nkoroto Primary School. That time, she did it for fun. Camel racing has attracted international participants over the years.
In the 30th edition of the sport, her mother said Vanilla's participation did not come as a surprise. She exuded confidence that she would win some cash to pay her third term school fees.
"She is hardworking. She had a mean grade of C+ with excellent performances in Physics and Computer Studies where she scored As. Raising fees has been a challenge because I have another child in college and other young ones," said Antonia.
Vanila, who aspires to be an engineer, emerged first among female competitors in the amateur category, bagging Sh10,000.
Her win prodded her to enter the elite category.
"The amateur race was friendlier and I thought of giving the professional race a try. I joined another female competitor who has participated in the category before and I emerged second," she said.
And during the awards ceremony, Vanila wowed spectators who turned the event into a fundraising session to help her achieve her dreams. She bagged Sh17,000 cash from her wins and Sh25,000 from well-wishers.
"I can now settle my school fees and help my parents as they struggle to pay fees for my elder siblings. This is a motivation and from this year going forward, I will be participating in the derby," she said.
The camel derby entered the 30th edition this year, attracting 26 entries. Amateur racers were 15 while elite camel race had 11 entries.
The derby is aimed at nurturing peace and bringing together Turkana, Samburu, Somali, Rendille and Pokot communities, with camels being their unifying factor.
During the event, a number of activities including cycle racing and traditional games often take place.
Trade, Tourism and Cooperatives Executive Peter Leshakwet said the sport has been promoting tourism in the region while addressing issues that often spark wars between the communities.
"A number of residents register for the races, others come to trade, participate in traditional games and learn different cultures. The other participants travel from far and wide," Mr Leshakwet said.
Samuel Lewano travelled for eight days from Marsabit County with his camels to participate in the elite category. In the five times he has participated, he has emerged among the top three four times.
"I am a Rendille and this sport has given us a platform to showcase our skills besides participating in other activities like playing Ntotoi, a traditional game... This year, I came with three camels from Marsabit County," Mr Lewano said.
Camels, he said, have been instrumental in fostering peace between the communities.
Promoting culture
Samburu Governor Moses Lenolkulal said the event has for the past 30 years been instrumental in promoting culture and peace, thereby helping to address issues of poaching and rampant cattle rustling.
"This is one of the events that has managed to preserve the cultures, bringing communities together under one event to take part in several activities including traditional games and even weddings," Mr Lenolkulal said.
In the 10km Camel amateur race, James Lengaina emerged winner and bagged Sh65,000 while James Leadmiso came second and won Sh45,000.
Saidimu Lengupae was ranked third bagging Sh35,000 while Vanila Lesooni emerged first in the ladies category, winning Sh10,000.
In the 21km race, Ltabaua Lewarani emerged first and bagged Sh80,000 while Lemain Lenabaala and Zakayo Lewano came in second and third bagging Sh60,000 and Sh40,000 respectively.