Hillary Barchok faces acid test as new Bomet governor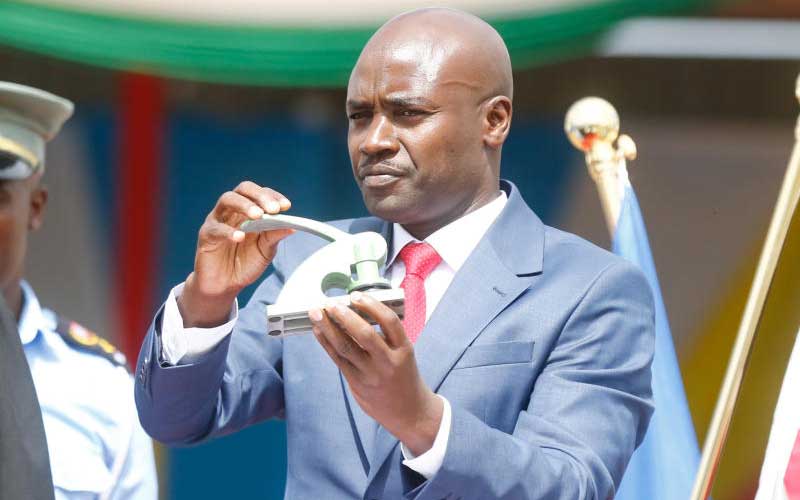 Bomet Governor Hillary Barchok (pictured) is walking a tight rope as he sets out to continue with the late Joyce Laboso's legacy.
Dr Barchok faces the headache of constituting his Cabinet after the County Assembly rejected six nominees who served under Laboso and he had proposed for reappointment.
As if the rejection by the MCAs was not enough, two of the rejected nominees moved to court in protest, claiming they were not subjected to fair hearing by the assembly.
Besides citing the assembly as a respondent, Bernard Ngeno and Justus Maina obtained court orders barring Barchok from picking their replacement.
This forced Barchok to change structure of his government by merging departments and scrapping others, remaining with only seven departments of the initial 10.
Barchok, who has not held a Cabinet meeting after assuming office due to a quorum hitch, took the bold move of changing the structure of government to allow him meet the threshold of convening the Cabinet to plan for development of the county.
"The move is for effective and efficient service delivery and through the changes the electorate should expect better services moving forward," the governor said in a statement on Wednesday.
He appointed the four executives who have been sworn in after being approved by the assembly to act in the three other departments as he set out to pick nominees for the dockets.
The governor also initiated changes and mass reshuffle of staff, replacing those perceived as not loyal. This has sparked outcry, with Laboso allies crying foul.
Chief of Staff Jane Sigilai was recently replaced, causing disquiet, with some accusing Barchok of targeting to shake up everything put in place by Laboso.
"Barchok seems to be seeking to set up his own system and we thought he would work with the team put in place by the late Governor Laboso," said John Sang, a resident.
As he struggles to put in place his Cabinet, Barchok is also faced with the pressure of picking a deputy governor.
Several candidates have been put forward and lobbying is ongoing.
The MCAs have also taken a stand on the issue, saying they expect Dr Barchok to pick a woman deputy from Sotik in the spirit of equal distribution of positions.
Singorwet MCA Alfred Langat said it is the wish of every MCA that the governor nominates his deputy from Sotik in honour of Laboso.
"He should not be misled by people calling themselves Bomet professionals who are pushing him to pick someone from outside Sotik," said Langat.
Assembly speaker Shadrack Rotich advised Barchok not be in a hurry to pick a deputy.
Rotich however said when the time comes, the county chief should be cautious to pick an individual who will help him deliver on the Laboso agenda.
"It is the deputy he will pick that will shape the fate of his development agenda and his future in politics. He should therefore consult widely and intensely before nominating anyone," he said.
Political commentator Gilbert Soi said the choice of deputy governor will make or break the future of Barchok in politics.