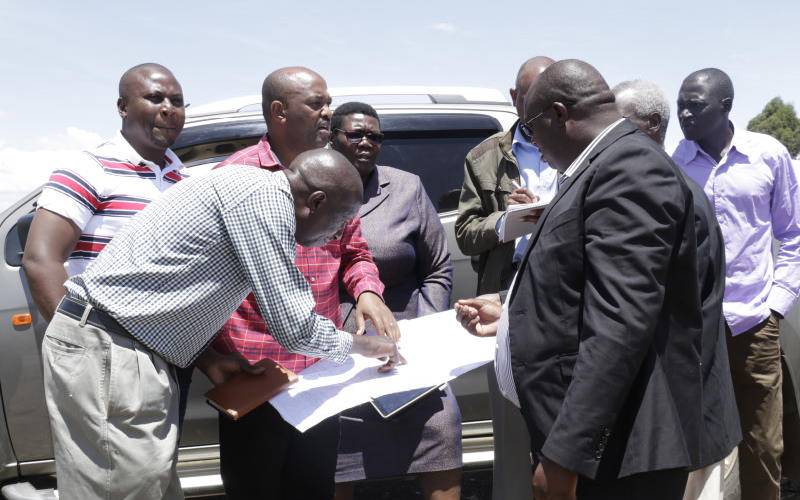 The Government is investigating claims that public land in the county valued at Sh4 billion has been grabbed by private developers.
The land is subdivided into 10 parcels. On Monday, the National Land Commission (NLC) Deputy Director for Administration Edith Olando toured the blankets area where several of the parcels are located.
According to Ms Olando, the land has been earmarked for construction of schools and other public facilities.
"Parliament asked us to investigate this matter. We will write a report on the status of the land in question," Olando said.
The parcels range between one and five hectares. Some of them are under cultivation while others have buildings erected on them.
Read More
Two months ago, Nakuru Town East MP David Gikaria petitioned parliament demanding that all public land in Nakuru County is safeguarded.
In the petition, Mr Gikaria noted that vast parcels of public land remain underutilised and attractive to land grabbers.
He listed seven pieces - LR No.12570/183 (market), 12570/184 (water reservoir), 12570/185 (market), 12570/186 (religious institutions), 12570/187 (primary school), 12570/188 (service station) and 12570/189 (nursery school) - that should be hosting public utilities that are yet to be built.
Gikaria noted that sometimes in early 2005, residents of Nakuru East Ward wrote to the then Nakuru Municipality seeking authority to privately develop the seven parcels.
On October 18, 2005, the then Council Clerk wrote to the Commissioner for Lands seeking guidance on how the parcels could be allocated to the residents in a procedural way.
The Commissioner for Lands is yet to reply to the request. Gikaria said some private developers made an attempt to fence the parcels but locals brought the fences down.
The MP said delays by NLC and the Ministry of Lands to make a final decision on how the parcels should be utilised have heightened tensions between the public and developers.