State to prepare for second phase of the Mau forest evictions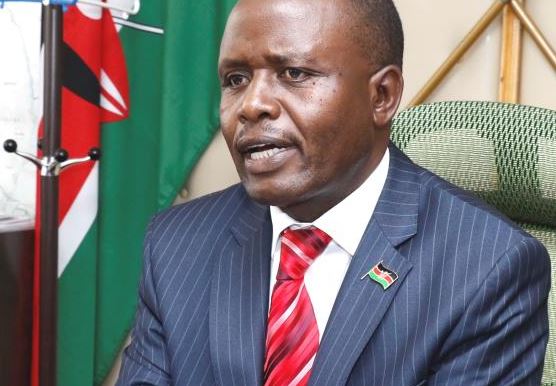 Security personnel have been deployed to the Maasai Mau forest to carry out the second phase of evictions, targeting some 10,000 illegal settlers.
This comes as the State, this week, published in the dailies 1,274 title deeds in the Mau complex for cancellation.
The Ministry of Land in 2018 sought court orders to nullify the titles which were "irregularly and unlawfully issued". The court in June granted the prayers asking the ministry to publish the titles, their owners and acreage they acquired.
Rift Valley Regional Coordinator George Natembeya (pictured) yesterday said they are waiting for Environment Cabinet Secretary Keriako Tobiko's nod to carry out the exercise.
"We are ready for the second phase of the eviction. We have deployed sufficient personnel on the ground to carry out the eviction," he said.
Natembeya was, however, quick to clarify that the number of people to be affected in the evictions is "only 10,000 and not 60,000 as earlier claimed".
Five ranches, which are believed to have been extended, are targeted for reclamation to restore the water tower that affects the lives of about 10 million people.
The phase one of the evictions that saw 10,000 illegal settlers evicted was centred in Reiya group ranch.
The second phase has Nkoben, Ilmotiok and Ololunga on the radar. The others are Enokishomi,Enoosokon,Nkaroni and Sisian.
Some Rift Valley leaders have vehemently opposed the impending evictions, saying if sanctioned, some 8,000 school going children, including 1,000 candidates set to sit their national exams at the end of the year, will suffer.
On July 25, Tobiko announced the plans to evict people from the forest, sparking off a heated debate among Rift Valley leaders.
The leaders met former Prime Minister Raila Odinga in Nairobi a week ago, and held consultations with Baringo Senator Gideon Moi in Nakuru last Sunday. They said they want the evictions stopped.
The leaders led by former Bomet Governor Isaac Ruto want the Government to consider compensation for the affected families before the evictions.
Uhuru tells off governors on funds
Uhuru pleaded with the Senate and the National Assembly to end the stalemate, noting that the National Government cannot give what it does not have.