Police in Nakuru stop residents from siphoning petrol after leak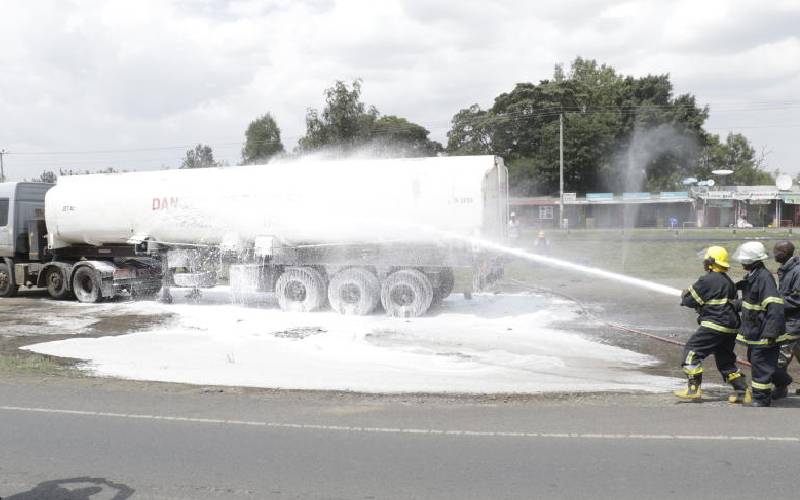 Police were yesterday forced to disperse a crowd that had gathered to siphon fuel from a leaking oil tanker along the Nairobi-Nakuru highway.
Officers set up a two-kilometre perimeter on both sides of the road as fire fighters poured foam on the spilled petroleum product that soaked the ground near Stem Hotel, 12km from town.
"We swiftly moved to the scene where the tanker was and flushed out locals who were armed with jerricans ready to tap the fuel," said county police boss Stephen Matu.
Mr Matu said it was not easy to eject residents, including boda boda operators, from the scene where the risk of an explosion and fire was extremely high given the flammable nature of super petrol.
The prompt police response was also informed by a tragedy that struck the town of Morogoro in Tanzania on Saturday when an oil tanker exploded and killed more than 60 people.
The scene was a no-go zone for locals, who were forced to watch events from a safe distance. Only police officers and fire brigade personnel were allowed near the tanker.
All businesses in the surrounding area were forced to close to limit the movement of people. Armed police officers guarded the shops to ensure nobody defied the order.
Matu told The Standard that the driver of the tanker was headed to Uganda from Mombasa. When the driver reached Naivasha, he told police that he suspected the tanker was leaking because he could smell petrol.
But after a visual inspection he was unable to detect the source of the leak.
He proceeded with his journey, but by the time he got to Pipeline area, the smell of petrol was too strong to ignore and he started looking for a deserted place to park the tanker.
"It is by God's grace that the driver did not stop the vehicle at Pipeline area, but rather looked for a less-populated site where he parked it," Matu said.
The police boss said they were forced to divert motorists to the old Nakuru-Nairobi road.
"Police guarded the scene for about four hours until the truck was emptied and the road cleaned with foam," he said.
Beatrice Muthoni, an M-Pesa operator, lauded police for their swift action.
"We are happy they cordoned off the scene when people were running towards the fuel tanker. Perhaps we could be counting losses," Ms Muthoni said.