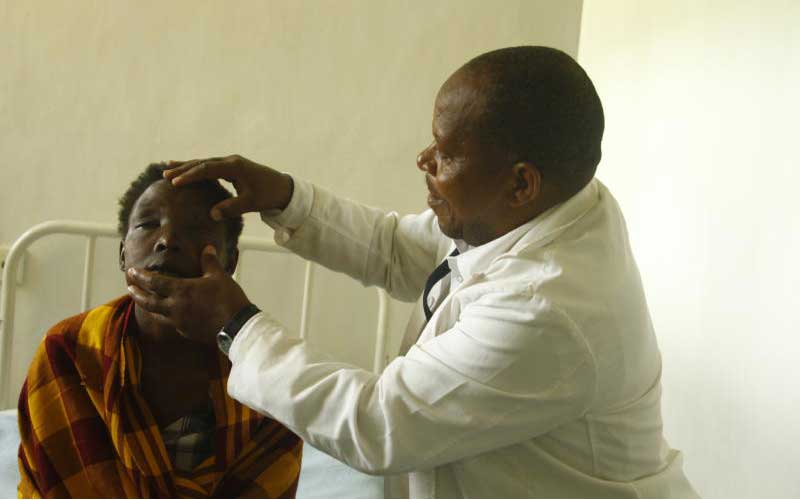 A 33-year-old woman has been admitted at Rift Valley Provincial General Hospital after her eyes were gouged out by unknown assailants. Norah Chepchirchir was on her way to prepare a meal for her ailing elder sister on Tuesday last week when she was accosted by a gang that dragged her into a bush and gouged her eyes leaving her for dead. She is now permanently blind. "How am I going to begin life after losing my sight and how will my children receive the news?," said the mother of two.
SEE ALSO: The dead yet to get land six years on as residents oppose cemeteries
Narrating her ordeal to The Standard from her hospital bed, Chepchirchir said she was going to check on her ailing sister at Green View Estate about a kilometre from her home when she was attacked at around 9pm.
Three men
She said three men blindfolded her and dragged her to a bush where they tried to strangle her with a piece of clothing. They then drew a knife and gouged her eyes as she screamed for mercy. She regained consciousness at around 1.30am and called for out for help, attracting passersby and police on patrol.
SEE ALSO: Nakuru County sets up handwashing stations to fight Covid-19
The police rushed her to Eldama Ravine Sub-county hospital from where she was referred to Rift Valley Provincial General Hospital. Chepchirchir is yet to recover from the trauma. "Why were they so brutal? I wish they cut off my hands and spared my eyes," she said. A nursing officer at the facility's eye unit, Bernard Kimani, said the patient is in great pain. "Doctors assessed the patient on admission and she was taken to the theater. Unfortunately, she cannot see because both of her eyes were removed," said Kimani.
SEE ALSO: Claims of abortion, rape, rock police unit
He said that Chepchirchiri has also been taken through counseling to accept her new condition. "It is sad that the patient has completely lost her sight and nothing much can be done," he said. Chepchirchir's mother, Alice Chematia, was in shock after receiving the news of her daughter's attack. "I am still confused. I am yet to inform my family about her condition," said Chematia. A trained primary teacher, Chepchirchir now fears she might never be able to teach again. "My teacher-training is now of no use. I am confused on how to start a new life in my condition," she said. The single mother is also worried that her two children aged 16 and 11 will find it difficult accept her condition. "I do not know who will provide for my children. I wish those who attacked me took everything I had but my sight," she said. Chepchirchir said she did not have a dispute with anyone apart from a debt of Sh3,200 she had after buying a mobile phone. Eldama Ravine police commander Rashid Mohamed said investigations to arrest those behind the attack had commenced. "We have intensified operations to bring the criminals to book," he said.