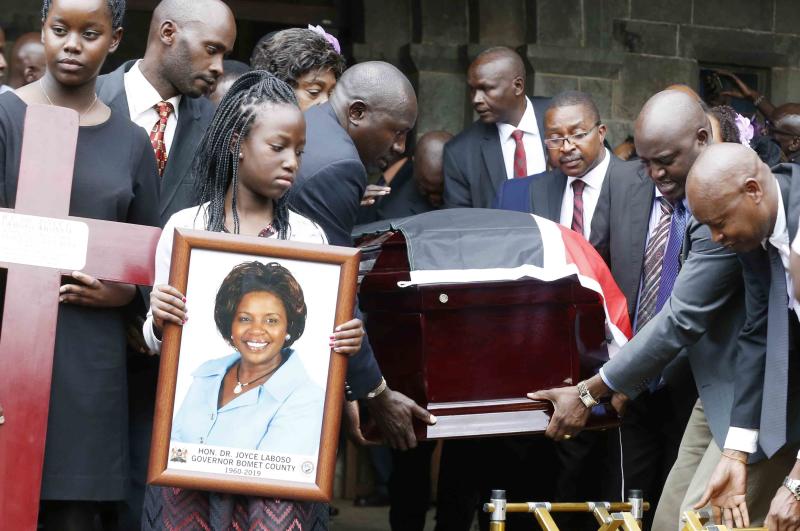 At 10am yesterday, with her casket draped in the Kenyan flag, the body of Bomet Governor Joyce Laboso arrived at the All Saints Cathedral in Nairobi for one of three services scheduled to be held before her burial.
Mourners donned dark outfits, brightened by purple accessories like scarves. Colourful and vibrant rose bouquets decorated the front of the church, as well as the aisles.
Deputy President William Ruto was in attendance, as were Cabinet secretaries, governors, senators, MPs and other prominent figures, many who had developed close ties with Laboso and her family.
Students and alumni of Kenya High School, where Laboso was taught by Ida Odinga, also attended. Ida recalled that even then, Laboso was a natural leader.
She was also a top student, a quality that propelled her through institutions of higher learning in Kenya and Europe and an illustrious career, including as a university lecturer.
The tribute read by Kirinyaga Governor Anne Waiguru intimated that in a sisterhood that brought together the country's female leaders, Laboso dutifully played the role of mediator and peacemaker.
The deputy president fondly reflected on his long friendship with Laboso that began after the death of her sister, Lorna.
"When Lorna died, there was a debate on what would happen, before Joyce was persuaded to run. Joyce pulled me aside and told me 'there is a small matter I want to tell you before I decide to run'.
"She told me 'You know my husband is Mr Abonyo and the way you know politics, it might be an issue'," Ruto recalled.
Sotik electorate
The DP said he assured Laboso that he would help her craft a message to solve the issue, telling the Sotik electorate that she was the daughter of Laboso, much to the excitement of the congregation.
Ruto also recalled how he mentored Laboso, like teaching her how to present herself so as to earn respect. He singled out an incident where he advised her to wear longer skirts.
But the DP also remembered Laboso as a woman who was committed to her duties, spearheading many projects in her short stint as governor.
Edwin Abonyo, Laboso's widower, concurred.
"Joyce was very committed to her work. I have never seen someone like that. We would rarely see her in the house, and every time she was there she was on her phone very busy attending to work. But it was all for good," he reminisced.
"Joyce had a special man for a husband," Ruto stated, remarking on the support Mr Abonyo gave his wife as her career flourished, and in her long battle with cancer.
"Addressing Joyce in the past tense is not something that I knew I would say with confidence, but here I am doing it," Abonyo, who spent the past 37 years with Laboso, stated. He told of a storybook romance that survived strong opposition initially put up by Laboso's father.
But as Abonyo explained, despite beating the odds and getting married, their life was not a 'happily ever after' kind of tale.
"In 1991, we had an event that wasn't catastrophic but it was about to be catastrophic. That is when Joyce first got cancer. Back then we only had Brian and Ted," Abonyo narrated.
"It was a scare in our life; we were still very young. We were just beginning to do things," Abonyo said, remembering how he drove to his mother after the diagnosis, devastated and in tears, and told her that his wife was dying.
Laboso, however, successfully underwent radiotherapy and chemotherapy at the Nairobi Hospital.
But although she recovered and they kept the information away from their sons and many people in their lives, Abonyo revealed that the disease took a lifelong toll on her health.
The cancer, he said, disabled her in many ways. Her life after that was plagued with numerous health problems.
"You fought the illness bravely and endured so much, much more than one human should ever have to bear. But now you need to rest. You are in a better place," said Brian Abonyo, Laboso's eldest son.
Ted Abonyo, the youngest son, had an equally brief but moving tribute. "I gave you a hard time and I thank you for the unconditional love and for never giving up on me."
Seek treatment
In his tribute, Abonyo recalled how they had received an outpouring of love and support, from President Uhuru Kenyatta to Ruto, who encouraged them to continue seeking treatment. Then there were the female leaders who were by Laboso's side until her death earlier this week.
On the day she died, Ruto recalled that Uhuru was keen to learn about Laboso's condition. He said the President had been involved as she traveled to London, India and finally back home;.
"We informed the President on the situation and the Government will work with the family, to see to it that Laboso is given a send-off that befits a servant; a people's person and leader," Ruto said.
Today, the former deputy Speaker and ex-Sotik MP will be accorded a State funeral with President Kenyatta expected at the requiem Mass at Bomet Green Stadium.
Laboso will be buried tomorrow at her husband's home in Koru, Kisumu.