Man arrested in Baragoi for 'spying' on parish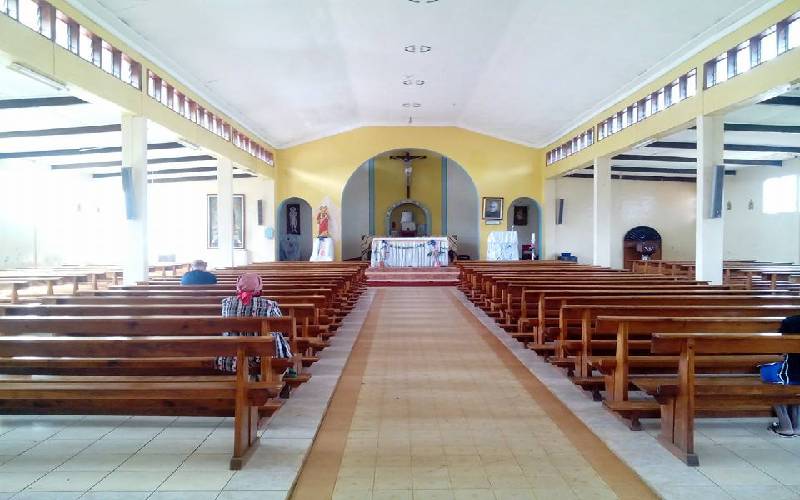 A man has been arrested in Baragoi on suspicion of planning to carry out a terror attack at a local church, police have said.
The 22-year-old man was in the company of an accomplice who managed to escape a police dragnet at the Baragoi Catholic Church during Sunday morning Mass.
Police believe the suspects were on a surveillance mission in the area.
Police commander Karanja Muiruri said the men begun surveying the church early in the morning and when worshippers started arriving, they started collecting information from unsuspecting church-goers about the number of congregants who attend Mass, the church capacity and where the bishop and priests reside.
"The suspects, who were dressed in casual clothes, went to the church at around 9am while believers were preparing for Mass. They seem to be collecting intelligence about the church; where the priest sleep, live and approximate number of church members," said Mr Muiruri.
The officer said the men were not church members and neither had they been spotted in the area before Sunday.
Worshippers soon grew suspicious about the men's intentions when they realised they were not interested in the church service.
Church elders
The church members shared their fears with the church elders who reported the matter at the Baragoi Police Station under Occurrence Book number 05/07/07/2019.
Muiruri said police went to the church and arrested the man whose identity cannot cannot be revealed for legal reasons.
"He has given us information about the other man who escaped during the arrest. He says the other man hired him to gather details about the church," Muiruri said.
The police boss said they could not take any chances and were holding the suspect for further interrogation to establish whether there was a security risk.
"The suspects is giving us information. We are treating this issue seriously," said the commander.
Church chairman Donald Mugo told The Standard that the suspects had been spotted hanging around the church as early as 7am.
Mr Mugo said the matter was escalated to reduce anxiety among believers.
"The Christians were tense and to calm them, we reported the matter to police who arrested one suspect," he said.
After the arrest, the faithful continued with the Mass.
The chairman asked the police to tighten security in the region and assure them of security to enable them conduct their normal businesses.
Muiruri said police patrols within Baragoi town had been intensified.
In May, police officers were deployed to conduct an operation in Lomerok area, Samburu North, after a senior officer was killed and three other officers injured by armed bandits.