84-year-old man's agonising pursuit for SGR millions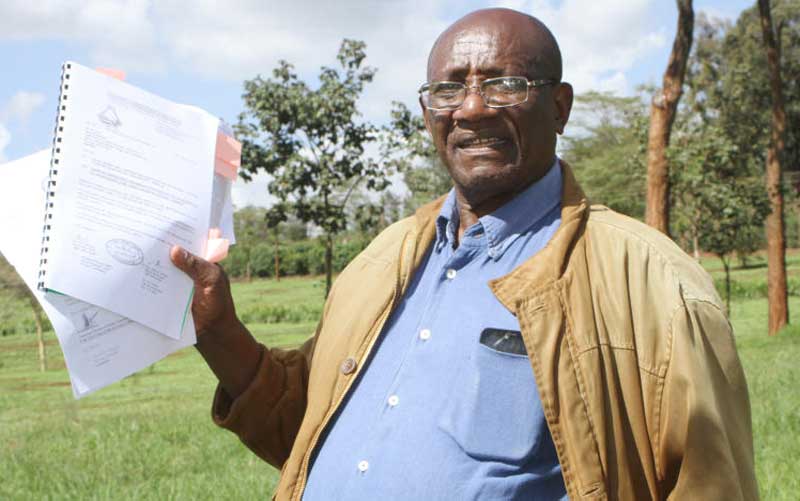 As Kenyans celebrated the second anniversary since the launch of Standard Gauge Railway (SGR), many families in Kajiado County are hurting over the ongoing extension of the project to Naivasha.
Among them is 84-year-old Samuel Muciri W'anjuguna, whose tale is a narrative of the bumpy struggle to seek compensation.
Huge losses
Counting millions of shillings in losses since the inception of the project at Kibiko area, all W'anjuguna has to write home about is a sad face and paper work showing correspondences with relevant government agencies whose response only remain a pipe dream.
"I am saddened by the turn of events. I expected more benefits, but instead, it has turned out to be a nightmare,'' said W'anjuguna.
Despite the many correspondences between him and relevant authorities, the fight for compensation has now turned into a nightmare for him and endless battles with SGR contractors.
W'anjuguna says the State owes him at least Sh78 million in compensation.
At Kibiko, the National Land Commission (NLC) compulsorily acquired five acres of his 13-acre farm for the construction of an SGR tunnel.
For the intrusion on his farm, the contractor was to pay him Sh74 million in compensation. But even with the intervention of the Ministry of Transport and Kenya Railway Cooperation in November last year, the contractor has refused to pay.
According to W'anjuguna, the Chinese contractors have destroyed the environment and water sources in areas surrounding the SGR path.
After valuation by agricultural experts it was estimated that the damage caused to his agricultural farm was Sh74 million, compensation money that just remains on paper.
A few kilometres away, W'anjuguna is seeking compensation for another of his farms where he had been practising horticulture.
The vegetables farm, he says, fetched him up to Sh2 million every harvest season until blasting of the SGR tunnel destroyed his one million litre water tank. A valuation by relevant authorities determined that the damages amounted to Sh3.5 million.
But the Chinese contractor denies that W'anjuguna's property was destroyed during the construction of the tunnel.
The contractor's liaison officer Kevin Deng said the horticultural land is not within the SGR corridor and they cannot therefore be held liable.
Extensive damages
"According to our records, the land in question is not earmarked and its not within the SGR corridor,'' said Mr Deng.
A tour of Kibiko area reveals extensive damages caused by the SGR and worsened by failed pledges for compensation.
The area is replete with damaged property, heavily cracked houses and abandoned farms and homes.
The Senate Committee on Natural Resources toured Phase 2 of the project after a petition by residents over environmental degradation and other unaddressed issues.