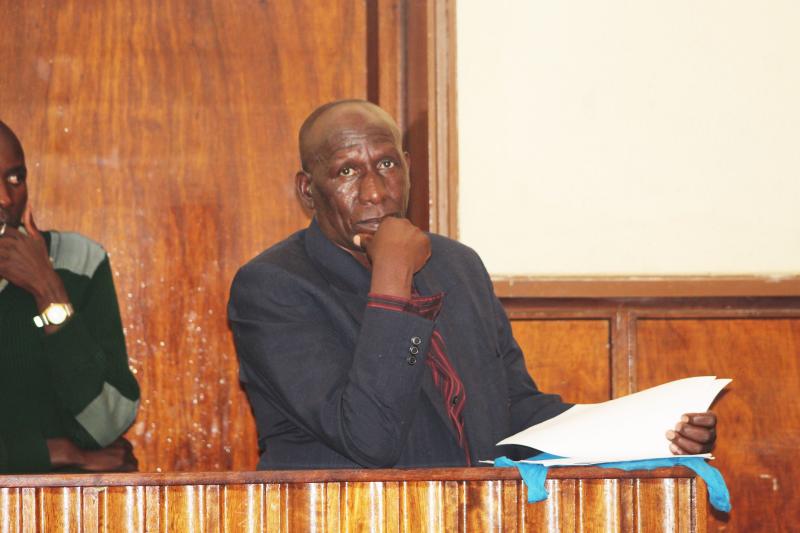 A man on death row for the 2006 killing of his brother and then burying his body in his bedroom in Naivasha is seeking re-sentencing at the High Court in Nakuru.
John Ngechu, now 65, was found guilty of first degree murder in June 2010. Ngechu's appeal originates from fact that the Nakuru court has set free a number of convicts and reduced long sentences.
He was convicted of killing his younger brother after he admitted in court yesterday that he did so due to land dispute.
Appearing before Justice Joel Ngugi during re-sentencing hearing, John Kimani Ngechu 65, confessed on how he banged a door against his brother head.
Read More
Ngechu told the court on how land disagreement he had with Peter Gitau Ngechu exploded into a grudge and he later killed him and buried his body in his house where no one would discover it, but the body was discovered eight months later.
"I killed my brother because we had disagreement over a land, I was irritated on how he prevented me from selling my land, and anyway he had smoked bhang, which he used to cultivate in his farm," he said.
He further testified that the brother was always against him selling the land he owned. The two used to live together at Ndoroto Village in Naivasha Sub County.
Ngechu was living with his brother after their late mother relocated to his brother's house in Eldoret after the death of their father in 2003.
"I hit my brother with a door and he died on the spot, I was confused on what to do. I was afraid to inform my peers who were at the farm, so I took a shovel then dug a grave inside the house," he said.
On May 2006, his sister Ester Wanjiku became curious after discovering that Gitau was nowhere to be found but when he confronted Ngechu about their brother, he told her that he was with their other brother in Eldoret.
After killing his brother, Ngechu disposed the land belonging to his brothers and threatened his mother (the late Mary Njeri) when she came to confront him over the matter. He was later arrested in August 2006for creating disturbance.
While in custody the family made public announcement on Inooro radio seeking for help on the whereabouts of Gitau, but Ngechu would tell them that he had visited him in police station on January 2007.
On February 2007, after a long search the mother requested the police, to allow him break into his son's house to get some of her belonging, only to discover a grave dug under the bed inside the house with a decomposed body.
Ngechu was charged and later sentenced to death after all the evidence was presented in court.
"The devil made me do what I did to my brother, I regret but now I'm saved, my brother and sister have forgiven me, my children need me," he said.
The father of three told the court that his wife left him when he was convicted, leaving behind his three children in the mercy of his family.
The ruling has been set for September 16.