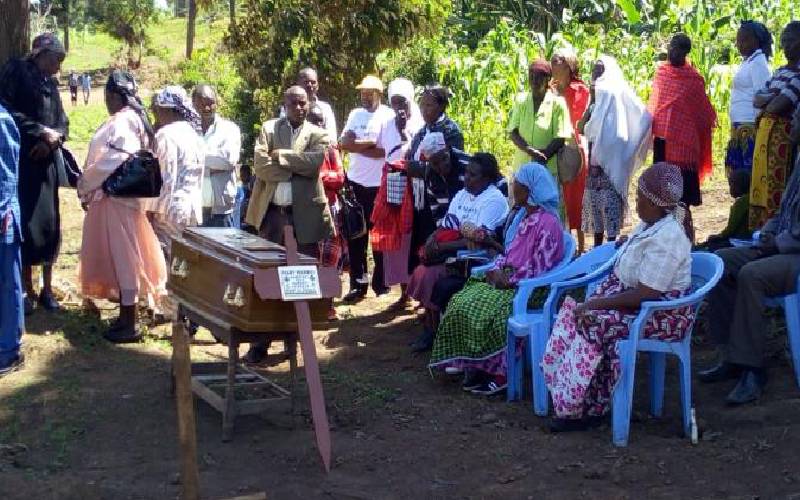 Communities in Solai held private memorial services in their homes to commemorate the first anniversary of the tragic dam burst, that claimed 48 lives
On May 9, a dam at Patel farm burst its walls spewing millions of gallons of water through three villages downstream.
Both Nakuru county and national governments did not have a plan to hold a public memorial prayer service as earlier indicated.
The Rift Valley regional coordinator Mongo Chimwaga said there were no plans to conduct an anniversary.
"The national government did not have any plans to hold a public memorial service to mark the anniversary," said Chimwaga.
Speaking to The Standard on telephone, Chimwaga said the national government has provided shelter to victims in a move to help them rebuild their lives.
The senior official said most of the victims were rebuilding their lives and that almost all the 37 houses put up by the state through Kenya Red Cross Society have been occupied.
"Normalcy has slowly picked up in Solai and we expect with time, victims shall be able to enjoy their livelihood," he said.
When The Standard visited Solai yesterday morning following reports that the victims were organising a public memorial to be conducted by religious leaders, we found the village deserted.
Chairman of the victims, Philip Koech, said a high number of those affected could not be traced on anniversary day, making it difficult to effect the prayers.
"A section of victims wanted us to hold prayers for departed souls, but we could not after failing to gather them," said Koech.
Koech said it is unfortunate that the victims were divided by politicians and people with other interest, an issue he said frustrating the restoration process.
"Some political leaders took advantage of the tragedy to sell their political agenda, an issue that too brought division among victims," he said.
The three villages that were affected; Nyandarua, Energy and Nyakinyua remained deserted.
A few families held private prayers at their homes while others went about their routine home chores.
Construction of Solai Presbyterian Churches of East Africa (PCEA), Orthodox, Full Gospel Churches of Kenya, St James Solai Catholic Church and Good Shepherd were ongoing.