Sh345m set aside to prevent flooding in Nakuru, Naivasha towns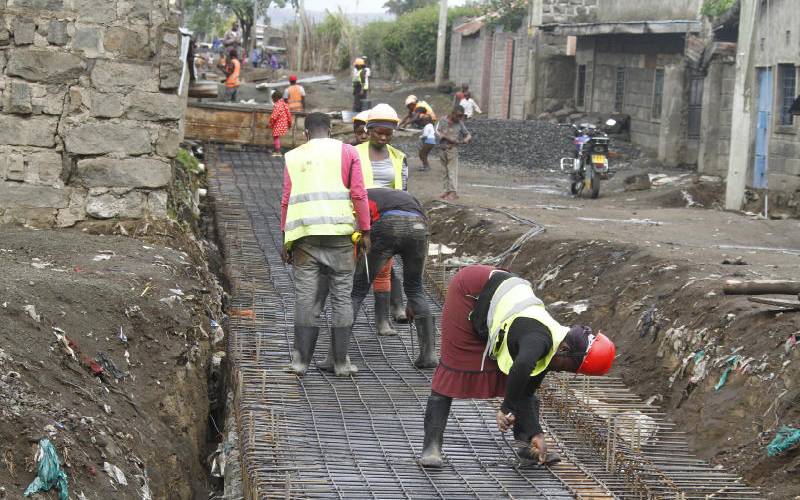 Nakuru County government has earmarked Sh345 million to mitigate effects of flooding in Nakuru and Naivasha towns.
This came after the Meteorological Department advised residents to brace themselves for heavy rains.
Roads and Infrastructure Executive Lucy Kariuki said Sh137 million would be used to improve the drainage system in Nakuru town to prevent flooding.
Areas, where the drainage system will be given a facelift, are the central business district town, Kwa Murogi, Kipkelion and Mombasa roads.
At least Sh200 million has been allocated to roads and drainage in Naivasha town. Industrial area, Site and Service and Kabati will benefit.
Salgaa trading centre has been allocated Sh4 million to improve the drainage system along a one kilometre stretch. Mosop has been awarded a similar amount.
"Contractors are working on the drainage system to prevent floods that have in the past wreaked havoc," said Ms Kariuki.
Waste management
The county is also unclogging drainage systems in the upper part of Nakuru town.
Areas highly affected by poor waste management, according to the county official, are Flamingo, Kisulisuli, Bondeni and Lake View estate.
"Stormwater collects garbage downstream, this is why contractors are unclogging drainage systems, an exercise that will be done continuously," she said.
Kwa Rhonda is among areas that have in the past reported destruction of property due to flooding.
Casual labourers are fixing the drainage system in the area.
Project Supervisor Joel Nyandieka told The Standard that the project would address the flooding menace. "The drainage will hold raging flood waters in several estates where previously many properties have been destroyed and residents exposed to water-borne diseases," said Nyandieka.