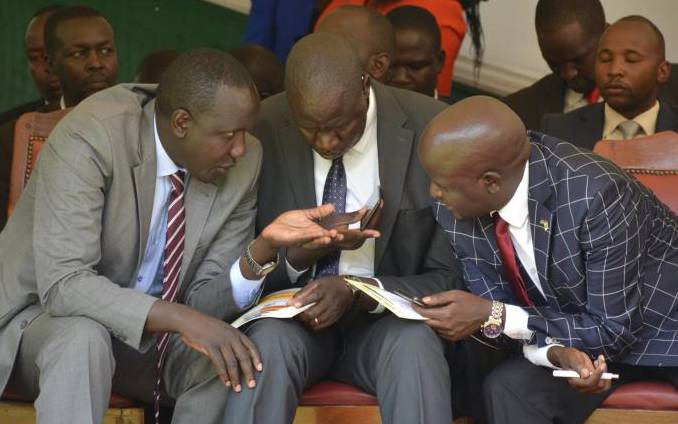 A showdown is looming in Uasin Gishu between Members of County Assembly (MCAs) and the executive over the County Equitable Development Bill 2019.
The bill that seeks to promote growth within wards through equal disbursement of development funds to the 30 electoral wards has seen Governor Jackson Mandago and MCAs take opposing stands.
The MCAs are drumming up support for the bill that will give them an opportunity to manage 40 per cent of development money.
Led by the speaker, the ward representatives recently conducted public participation sessions in a bid to incorporate views of locals.
Read More
This, however, angered Mr Mandago who accused MCAs of 'cheating and incitement'.
"I have not spoken to anyone that I am unable to discharge my duties diligently. I am still equal to the task and that is why I am urging locals not to be cheated that they will receive Sh43 million for development," said Mandago.
"Do not be cheated by MCAs whose role is to oversight. How can you share funds to the wards that are even smaller than a sub location? If I give you a chance to pay for hospital staff, construct roads, pay ECDEs and provide water for residents, will you even manage?"
The governor said he sought the elective seat in order to manage resources based on his set plans.
"MCAs should go slow and allow dialogue on this matter. Let me do the distribution process because I was elected as the governor and my role is to ensure that resources are spread in the county. At the moment I have negotiated for Sh1 billion from World Bank which will be used to improve urban settlements and not grassroots," he added.
But house Majority Leader Josphat Lowoi said the bill would ensure prudent management of resources at the grassroots.
"The legislation allows us to take 40 per cent of the development funds to the citizens who will then decide how they want to make use of it for their own benefit," said Lowoi.
He added: "The funds will vary from every financial year and locals will have powers to decide on projects which will then be implemented by various departments."
He said the proposed law will help shake the marginalised tag because the funds will be equitably shared.
Simat Kapseret MCA Edwin Maraswo supported the bill saying it was up to locals to decide which projects the want implemented. "In major instances, the executive might want to use the funds on water yet the main concern is roads," he added.