Experts: Row looms as donkey theft soars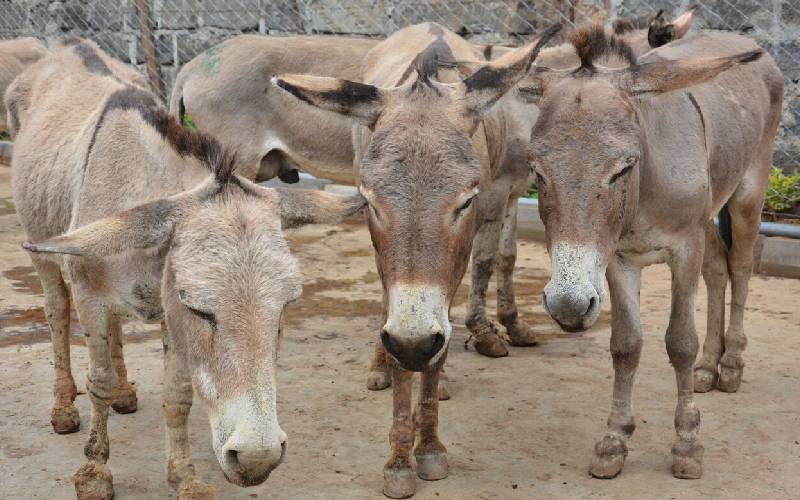 An animal welfare charity has warned that rising theft and smuggling of donkeys from neighbouring countries could sour diplomatic relations.
Brooke East Africa pointed to increased demand for donkey skin to meet China's demand for traditional medicine as being the driving factor behind the increased criminal activity.
The report titled Changing human-donkey relationships in era of industrial exploitation to China was released on April 17.
"Tanzania, Uganda and Ethiopia have banned donkey slaughter yet it is reported that these three countries and Somalia are the major sources of the donkeys slaughtered in Kenyan abattoirs," the report notes.
Considering that Kenya is apparently generating revenue from stolen donkeys, the report noted, this was likely to generate diplomatic rows and political conflicts "between her and the affected countries".
The report notes that stakeholders in the donkey trade are aware that the country does not have enough animals to satisfy the demands of Chinese importers hence the increase in smuggling activities.
After the donkeys are slaughtered, their hides are shipped to China where they are bought by traditional medicine men. They are boiled and a gelatin called ejiao is extracted.
According to the China Daily website, ejiao was once used in traditional Chinese medicine as a blood supplement and to balance yin and yang. But today it is used to prevent infertility or miscarriages, and regulate menstrual irregularities.
In addition, it is used to prevent wrinkles and aging of the skin.
Modern medical research, however, has cast doubts on the supposedly beneficial health effects of ejiao.
The Brooke report estimated that 26,000 donkeys were slaughtered each month in the country's four abattoirs. The average price of one hide was Sh14,200.