Women burnt in arson attack after threats from estranged boyfriend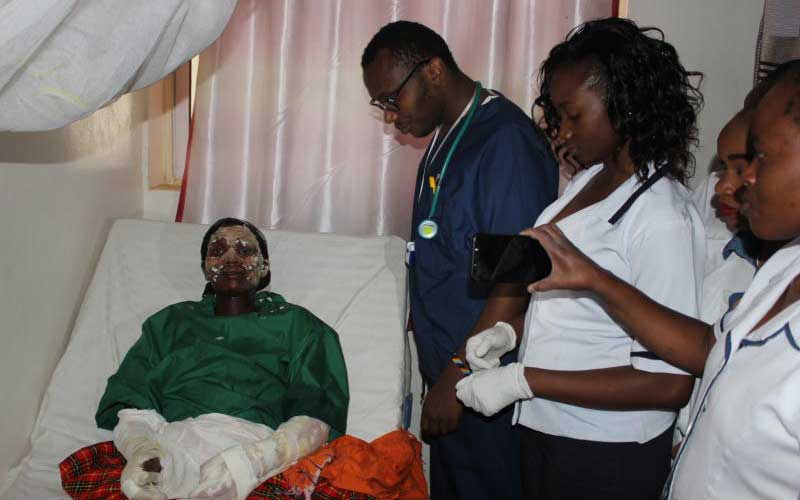 Four women are being treated for serious burn wounds after their house was set on fire while they were asleep.
The women, who spoke to the media on Monday at Cottage Hospital, said petrol was poured under the door at around 2am and ignited.
Winnie Chepkorir, 30, claimed that her estranged boyfriend had earlier in the day threatened to harm her if she refused to go back to him.
"I had been living with him for eight months but last week we differed and I fled his house at Suswa trading centre. He has been pursuing me but I told him that I will never get back to him. I suspect he could be behind the incident," said Ms Chepkorir.
Chepkorir, who hails from Mekenyu in Narok South and was working as a waiter at a hotel in Suswa town, said one of them managed to open the door, enabling them to escape the burning house.
Neighbours rushed to their aid and took them to hospital. The three other women were identified as Monica Nyambura, 38, Diana Chepkemoi, 32 and Nancy Chepkemoi, also 32.
Nancy said she had invited Chepkorir to live with them after learning that she had left her boyfriend.
She added that when Chepkorir revealed that her boyfriend had threatened her, they reported the matter at the Suswa police post where a policeman advised Chepkorir to leave town for her safety.
"The officer we found told us that there was nothing he could do. He told us that even if he arrested the boyfriend he would be released, and that the best thing to do was to flee. But unfortunately the incident happened before she left," said Nancy.
Medics at the hospital said the women sustained between 15 and 30 per cent burns on their faces, hands and legs but were in stable condition.
"This morning at around 10am we received four female patients with burns. We have treated them and they are in stable condition. They might be discharged after five days," said the in-charge clinician John David.
Narok North OCPD Joseph Kisombe said police had launched a manhunt for the suspect, who could face arson and attempted murder charges.