Motorists caught up in eight-hour traffic jam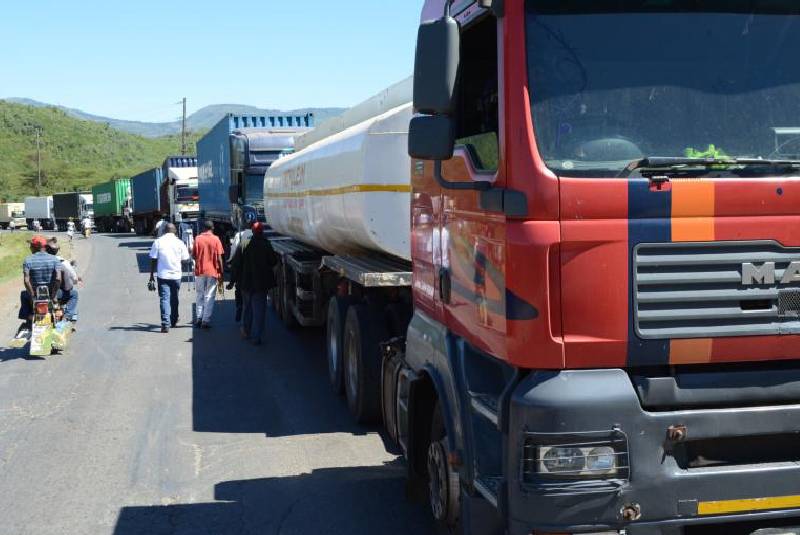 Motorists spent Thursday night on the Mai Mahiu-Limuru road following a freak accident that completely blocked the road.
It took police more than eight hours to clear the road before the flow of traffic, which stretched kilometres, resumed yesterday morning.
Trouble started when a lorry ferrying detergent from Nairobi to Nakuru crushed near Mai Mahiu town at 11pm and blocked the road.
The situation was worsened by overlapping drivers and in a matter of an hour after the accident, the road was impassable.
Impatient drivers
According to a motorist, Samson Kinuthia, who was heading to Narok from Nairobi, they spent the night by the road as they waited for police to remove the wreck.
Mr Kinuthia blamed fellow drivers who were impatient for fuelling the crisis by deciding to overlap, which completely paralysed the flow of traffic.
"This road is very narrow and drivers cannot use any diversions. We had no otherwise but to wait for the wreck to be towed away," he said.
Earlier, Narok Governor Samuel Tunai decried frequent traffic snarl-ups on the busy road, saying it was affecting tourists visiting Masai Mara Game Reserve.
"The government should either expand the road or construct a by-pass for use by motorists heading to Narok," he said.
His sentiments were spported by members of the Naivasha Professional Association (NPA) who said the road and the Gilgil weighbridge are critical.
Association CEO Absolom Muukusi said it had become a norm for motorists to be held up at the Gilgil weighbridge every Friday and Sunday evenings.
"Every weekend, we have traffic snarl-up at the Gilgil weighbridge yet the section was expanded last year and we do not understand what the problem is," he said.