Morans save lions from spear as hunt for gold gathers pace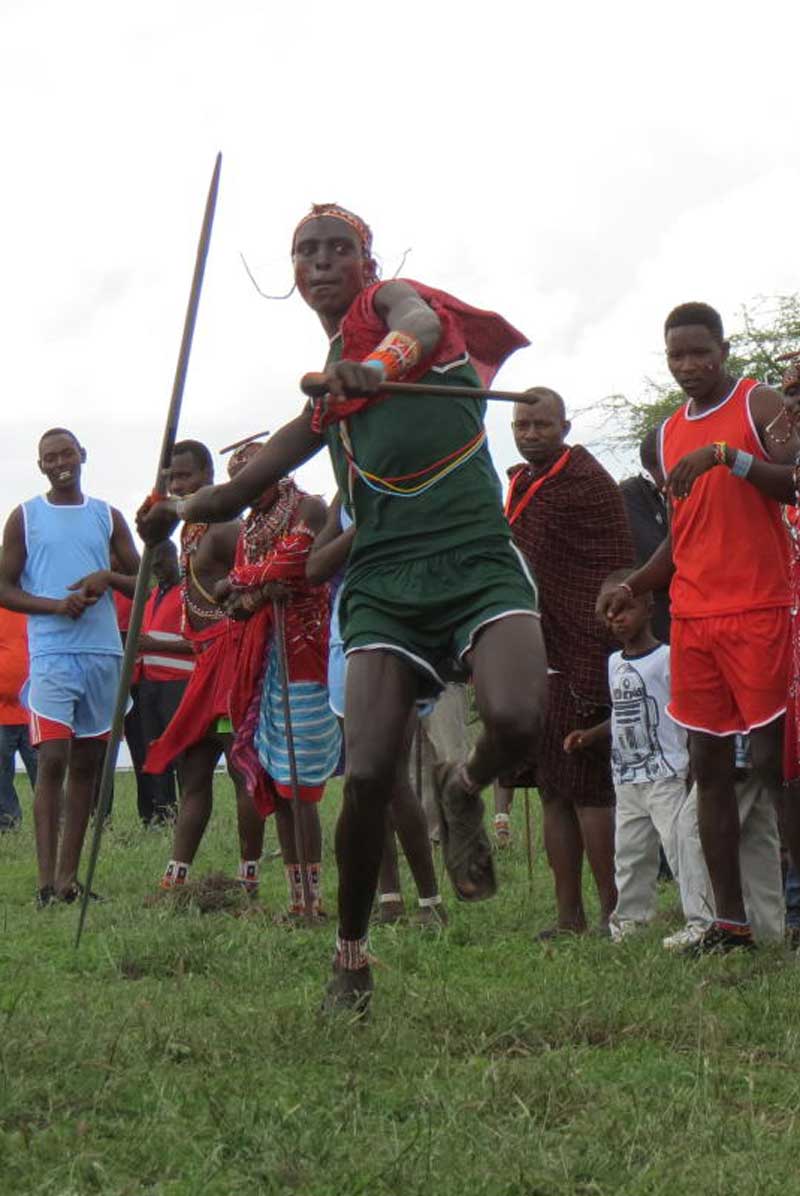 Lucus Siyanga, 23, remembers when he used hunt for lions. He grew up knowing that to be considered a man, he had to kill a lion - that is what members of his community told him over and over again.
"Killing a lion was considered the ultimate act of bravery," he said when I meet him at his home on the foothill of Mount Kilimanjaro in Kajiado County.
Traditionally, the Morans (warriors) would transition in to warrior-hood by hunting lions to showcase their physical prowess, courage and vitality. However, the wind of change is slowly blowing in the region, and today, they have found an alternative to the lion-killing tradition. They have embraced athletics to hunt for gold medals.
Maasai Olympics, a biennial event organised by Big Life Foundation, a conservationist group, educates and sensitises communities on how to live harmoniously with wild animals.
School drop outs
This year's event was attended by David Rudisha, the 800 metres world record holder and Olympics champion. He said engaging youth in sports is vital in nurturing talents and preventing the hunt for lions. He says apart from sports, the youth are educated on wildlife conservation
Siyanga, a Form Three student at Kenswed Secondary School in Ngong says the cultural practices were to blame for school drop outs. "I am ready for the competition," says Lukas from the Kuku Manyatta, who was the 5000 and 800 metres gold medalist
He plans to use the medals to inspire youth to engage in wildlife conservation.
"I will not stop after winning. I will push and become a renowned runner like David Rudisha," he says.
The dwindling lion population has led various stakeholders to team up with local communities to come up with interventions to protect lions.
Maasai Olympics seeks to positively utilise the bravado of youths in the area, while maintaining their competitive nature, and channeling those energies towards affirmative conservation outcomes for lions.
The activities include high jumping, javelin, club throwing for accuracy, running short and long distance races.
Retaliatory attacks
Given that girls are the motivators behind the tradition of hunting lions, their inclusion in the event is key and they compete in two races at the finals.
Maasai morans from Rombo, Kuku, Mbirikani and Eselengei group ranches within the Amboseli ecosystem took part in the event
The biennial event has been held since 2012. Big Life Foundation engages in education, sensitisation and protection of endangered wildlife species.
Amboseli ecosystem has been affected by human-wildlife conflict. This intern has led to retaliatory attacks by Morans against wild animals.
Tim Oloo, Born Free Kenya Country Manager, which is one of the main sponsors of the Maasai Olympics, said he was proud of being part of an initiative that, together with others, has helped in the reduction of killings of lions in Amboseli.
"Born Free has been working with the community in Amboseli since 2010 by building predator-proof bomas that have minimised night predation of the community's livestock as well as retaliatory killings of lions," Mr Oloo said.
He says that in 2003, there were about 50 lions in the Amboseli ecosystem but due to conservation efforts the number has steadily risen to more than 200 in 2018.
"Through these bomas and other interventions such a livestock compensation scheme, increased security and law enforcement operations in the ecosystem among others, we have seen lion populations gradually grow as the community's tolerance for the carnivore's increases," Oloo said.