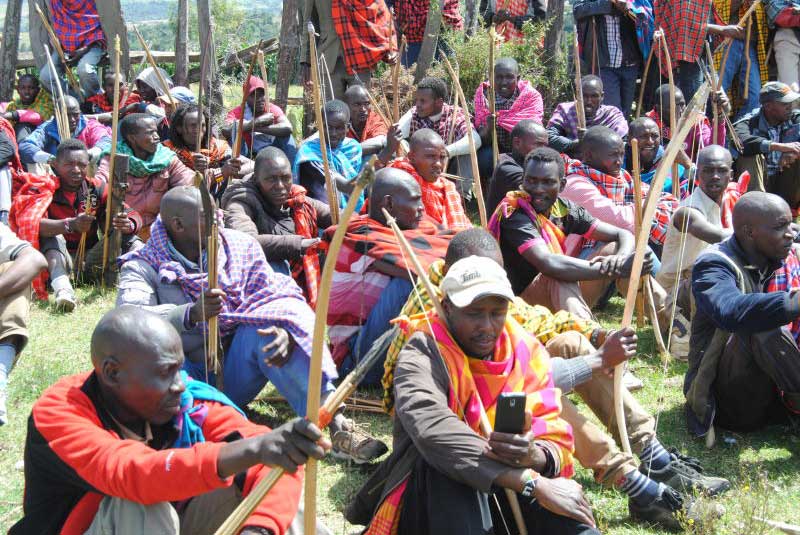 Local leaders have called on security agencies to arrest those behind ethnic violence that left one person dead at the weekend in Narok South.
Fifteen people were injured and 25 houses torched in the attacks in Ololoipang'i, Oloruasi and Nkoben villages.
The ethnic skirmishes are said to have started after a cow was stolen.
County Police Commander Thomas Ngeiywa yesterday said no incident had been reported in 24 hours, but added that security personnel deployed in the area would continue conducting patrols.
"The area is now calm. People have resumed their normal duties, but we are still monitoring the situation," the police boss told The Standard.
On Sunday, County Commissioner George Natembeya imposed a dawn to dusk curfew in the area as a measure to curb the clashes.
Local chiefs
Mr Natembeya also directed local chiefs and their assistants to arrest those raising unnecessary alarm.
Local leaders, among them Governor Samuel Tunai, who spoke at the annual interdenominational church service at Olchorro in Narok North, called for tough action on those behind the violence.
"This is a period of festivities and residents should be enjoying themselves. Information that some people are engaging in ethnic violence is disheartening. We do not want any more bloodshed, security agencies should take a decisive measure to restore calm," said Tunai.
The governor also urged the two communities to embrace each other and live harmoniously.
Narok North MP Motalel ole Kenta condemned the ongoing violence between the two communities, and blamed the Government for laxity in coming up with tangible solution to the recurrent matter.