KWS lifts suspension on darting wildlife for disease surveillance, clinical monitoring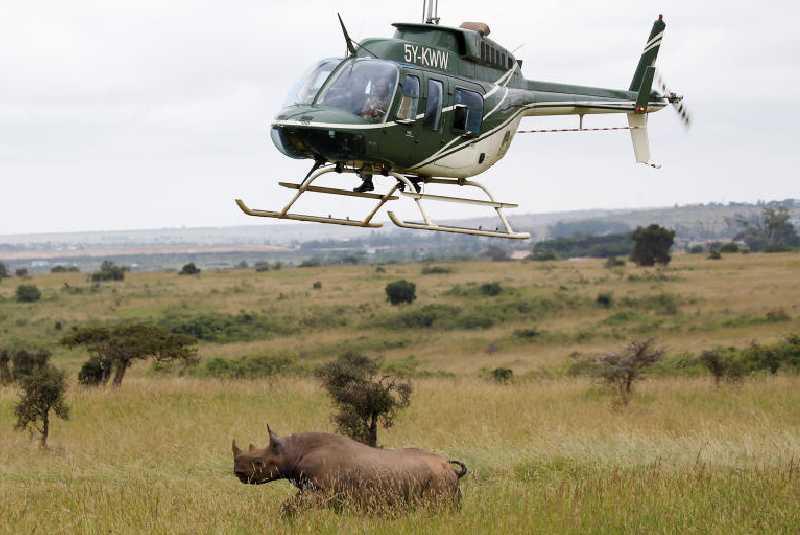 The Kenya Wildlife Service has lifted the suspension of darting of wildlife for purposes of disease surveillance, clinical monitoring and diagnosis of sick wildlife.
The KWS had suspended darting of wildlife following botched translocation that led to the death of 11 rhinos in Tsavo in July but has said it will lift the ban to allow for diagnosis of rhinos after the deaths in Mara.
The suspension of darting wildlife had raised fear among the conservationists after the death of three rhinos in Mara Triangle following suspected disease.
"Darting can only be done in cases of disease surveillance and clinical monitoring. We are currently doing the same on the remaining rhinos within the Mara ecosystem after the death of three rhinos," KWS corporate Communications officer Paul Gathitu said.
The service announced its move after fears were raised that the ban of darting to allow for collection of blood samples for disease surveillance might impact on the remaining rhinos.
Gathitu added that the service has suspended any translocation of wildlife until revised procedures are put in place.
"The ministry is still laying out revised procedures on the same and that is why procedures that come with the translocation, like darting, have been in place-except on clinical grounds," he added.
Take a quick survey and help us improve our website!
Take a survey
The three rhinos in Mara Triangle within the Mara Ecosystem are suspected to have died between November 12 and 19 at the Mara Triangle although postmortem results are yet to be released.
Last week, Mara Triangle Administrator Liaram Molai raised fears that the ban of darting might hamper quick detection of diseases to arrest any cases of a contagious disease in case the death rhinos succumbed to infectious disease.
"The government banned darting, barring the extraction of blood from wildlife for testing but we are still waiting for the results from Government chemist to know the cause of deaths," Mr Molai said.
The KWS said samples of other 10 rhinos remaining within the Mara Triangle will be collected for diagnosis in case of infectious disease.
Close sources had revealed to The Standard the rhinos might have died of anthrax, a contagious disease, which might also affect the rest of the remaining rhinos.
"It is suspected that the rhinos died of anthrax that is why surveillance has been stepped up in all protected areas," the source said.