KWS officers shoot dead 'killer' hippo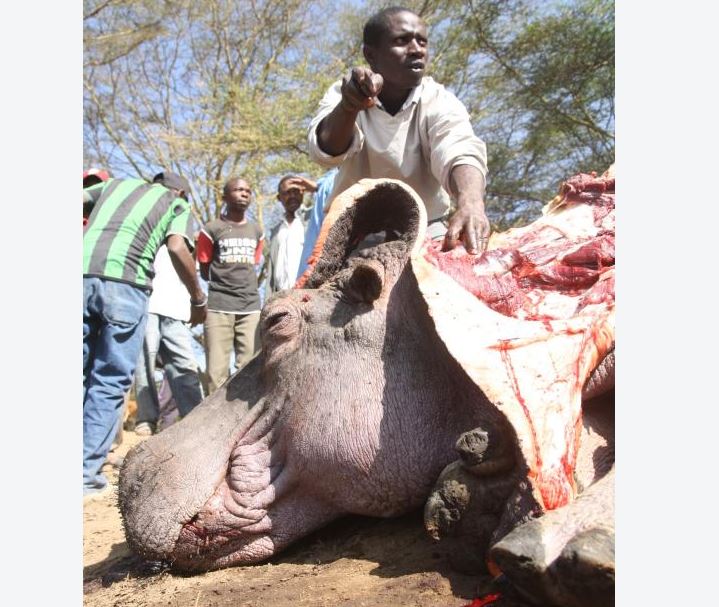 Stakeholders around Lake Naivasha are up in arms against KWS officers after they shot dead a hippo that allegedly killed a Chinese tourist over the weekend and injured another one.
They have accused the government agency of 'acting' whenever a foreigner was attacked and failing to respond when a local faced similar attacks.
On Sunday evening, a contingent of KWS officers shot dead a hippo near Sopa Lodge where the Chinese national identified as 66-year-old Chang Ming Chuang was attacked and killed.
Incidentally, on the same day near Hippo Point a fisherman was attacked and killed by another hippo but the government officers did not respond to this.
According to David Kilo from Lake Naivasha Boat Owners association, the foreigners had encroached on the animal's territory before the attacked occurred.
Kilo noted that farmers and hoteliers had further complicated the matter by fencing off riparian land thus reducing the grazing grounds of the wild animals.
"We are saddened by the reaction of KWS officers who were swift to act when a Chinese was killed by a hippo but are dormant when a local is involved," he said.
During the incident, Kilo who is also an honorary game warden had a harsh exchange of words with the officers and the management of Sopa hotel where the incident occurred.
"On Saturday a local was attacked and killed by a hippo but KWS officers did not even bother to get information as to how the incident occurred," he said.
He said that next week, the association in conjunction with other stakeholders would name and shame all the facilities that had blocked wildlife corridors and encroached on riparian land.
The sentiments were echoed by the chairman Friends of Lake Naivasha Peter Muthui who said that they would petition the CS for Tourism Najib Balala over the incident.
He admitted that the number of hippos around the lake had increased to alarming levels but was quick to note that it was human beings who had encroached on their territories.
"We are wondering how KWS officers who were at the scene identified the 'culprit' hippo before shooting it dead," he said.
A KWS officer who is not authorized to speak to the press however defended the move noting that animal was aggressive and could kill another person.
"We have ways of picking out such an animal which is very aggressive even to boat operator and we are searching for the other hippo that killed the local fisherman," said the officer.