Over 1.3 million flamingos flock back to Lake Bogoria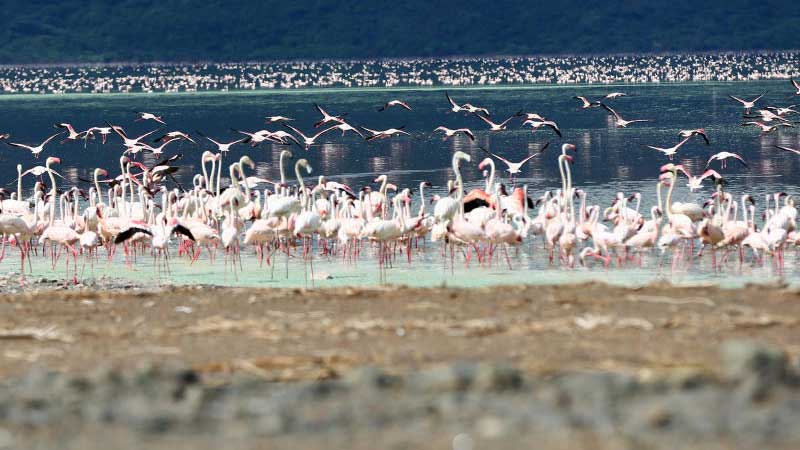 Over 1.3 million flamingos have migrated to Lake Bogoria as tourism season peaks.
Flamingos often fly to Tanzania's Lake Natron, for nesting, before returning to Lake Bogoria, where there is abundant food as there is minimal competition and predators.
"The just-concluded water bird census earlier this month revealed that flamingo numbers have really increased compared to the last water bird census in January where the birds were only 800,000. There are currently 1.3 million flamingos," said James Kimaru, Lake Baringo National reserve senior warden.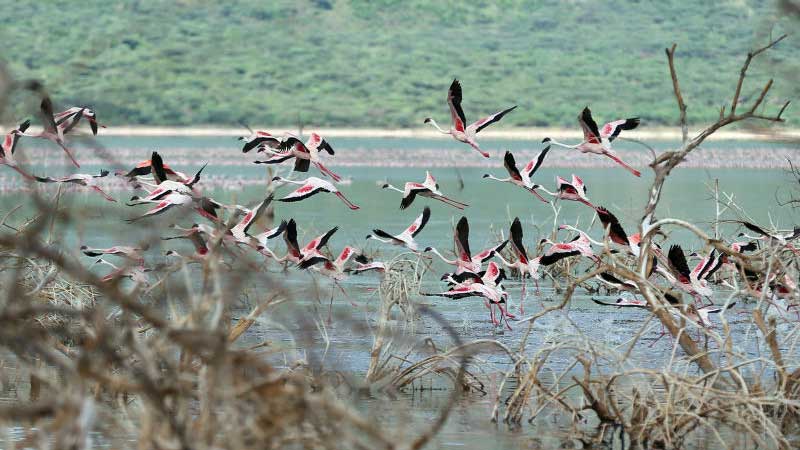 Mating season
Flamingo population, according to Mr Kimaru, fluctuates depending on abundance of food and mating season.
"Flamingos thrive in harsh environments and they keep on migrating over the seasons. These birds find a home in such toxic wetlands where their food also grows," he said.
The birds have especially tough skin and can drink water at near boiling point from springs and geysers at lake edges and whenever fresh water is not available, flamingos can use glands in their head that remove salt, draining it out from their nasal cavity.
Peak season
"We are recording an increased number of tourists too, who are purposely coming to witness the flocks of flamingos as well as the geysers and hot springs," said Kimaru, adding that the peak season often runs from June and September.
Even as large number of tourists visit Lake Bogoria, Lake Nakuru, previously known to be the home of flamingos, has little life as the birds are yet to return after migrating elsewhere several years back.
Since 2013, rising water levels in the lakes within the Rift Valley have driven away flamingos from Lake Nakuru.
Being migratory birds, Kimaru said, last year, the birds moved to Lake Bogoria around mid August, but in fewer numbers.
He said tourists who visit Lake Bogoria during the peak season find the birds in large numbers.
He added that the reduced water levels have played a role in increasing the lake's alkalinity, which has spurred the growth of microscopic blue-green algae; flamingos' main food.