Mai Mahiu residents treated to bizarre fire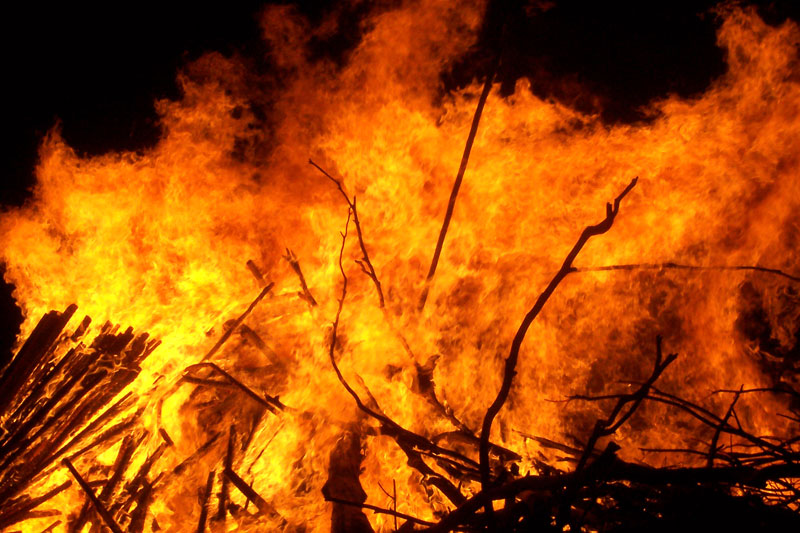 Residents of Mai Mahiu were treated to a bizarre incident after a residential house went up in smoke due to what was termed as 'demonic powers'.
All household goods in the house in Muniu village were reduced to ashes with fingers pointing at one of the relatives who for years has been troubled by the unknown powers.
Efforts by fire fighters from Naivasha sub-county saw nearby houses saved in the nick of time as the residents tried to come to terms with the incident.
A neighbor who declined to be named said that the home had in the last couple of years recorded bizarre incidents which could not be explained.
The neighbor pointed to an incident where the entire home's chicken were found slaughtered and discarded in the vast compound.
"In the latest incident, one of the family's sons was in the home but he cannot explain what caused the fire that burnt down everything," said the neighbor.
Area Chief Zachariah Igeria confirmed the incident adding that for years the home had recorded some incidents that had left many unanswered questions.
He said that members of various churches had on several occasions prayed for the family but the bizarre incidents did not stop.
"The family members are blaming demonic powers for what is going on in their home and currently they are homeless after the house was burnt down," he said.
Meanwhile, motorists using the Mai Mahiu-Limuru road have raised their concern over the daily traffic snarl-ups caused by the ongoing repairs.
They noted that they were losing tens of man-hours on the section of the road near Kimandura due to poor planning by the contractor.
For the last two weeks, motorists using the road have been stranded on the road which is currently under repair sometimes for over five hours.
A matatu driver Samuel Kibe who has been using the road on daily basis said that the contractor had not constructed a diversion.
"As result, motorists on approaching the section under repair have to wait for each other to pass and this is leading to traffic-jams on daily basis," he said.