Police accused of neglecting man they accidentally shot during a raid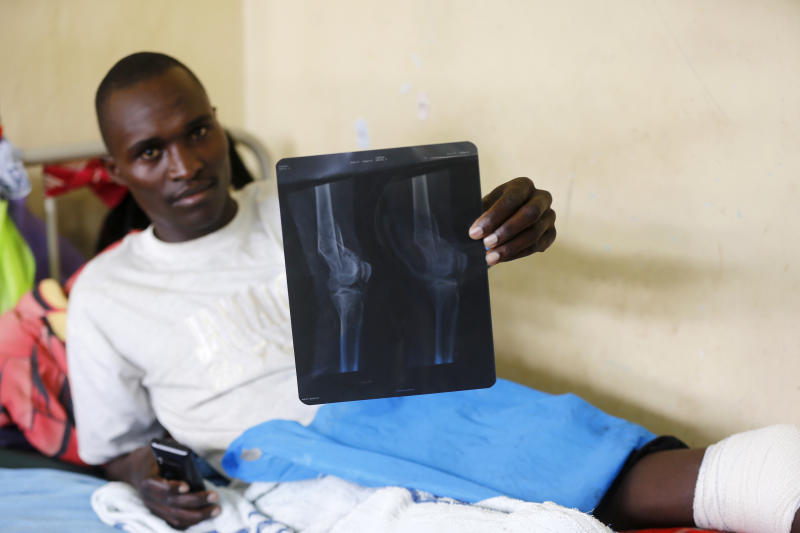 A guard shot two weeks ago in crackdown on illicit brews in Elburgon wants the police to pay his hospital bills.
James Kipruto, 27, was shot in the left leg when officers raided Lawina village.
The father of two said the officers took him to Elburgon Hospital after the shooting. He was later referred to Nakuru Level Five Hospital.
"I was dashing to my house to take cover when the officers started shooting in the air. A bullet hit me in the leg before I could get to my house. They had raided my neighbour's homestead. The officers picked five suspects before taking me to hospital," said Kipruto.
He said he needed Sh56, 000 to undergo an operation, but could not raise the amount.
"My leg is in bad shape. I fear it may be amputated. I was told the procedure will cost Sh56, 000 but there will be additional expenses. I want the police to foot the bill. A police officer shot me," said Kipruto.
He said his attempts to reach senior police officers from Molo, who had visited him at the hospital, had been fruitless.
"They came a day after I was admitted and promised to come back. They said they would tell me how they would help with the bill. They are neither picking my calls nor responding to my text messages," said Kipruto.
He added: "My wife and children are suffering because I am the sole breadwinner. This is likely to worsen because I will not be able to work until I fully recover."
"The police have messed up my life. My family is suffering due to unpaid bills. My job requires physical fitness. I am likely to lose it if healing takes too long. The police should take responsibility for the actions and save my leg."
The Nursing Officer In Charge of the facility, Alphaxard Kemboi, said Kipruto required a spanning exofix; a metallic plate, to fix his leg from within. However, due to his financial limitations, they will fix the plate externaly.
"We managed to remove tissues that were badly destroyed. His leg was severed at the joint," said Kemboi.
He said Kipruto was expected to undergo a second operation to fix the plate today.
Molo OCPD Daniel Kamanza denied that Kipruto was shot by a stray bullet.
He said one of his officers opened fire on him as he tried to free suspects they had arrested. "He attempted to attack an officer who had one of the suspects. Another officer saw him as a threat and neutralised him," said Kamanza.
Kipruto accused the police of giving false information about the shooting to avoid his hospital bill.
"I don't drink alcohol and I had no interest in rescuing the suspects. The OCPD's explanation is a lame excuse to avoid taking responsibility. If I was at fault, they would have arrested me too," he said.
County police commander Hassan Barua said he had not received any report concerning the incident.
"I am not aware of such an incident. I have to confirm first. We have to look at what led to his shooting to determine the action to be taken," said Mr Barua.