EACC detectives raid former governor's homes in operation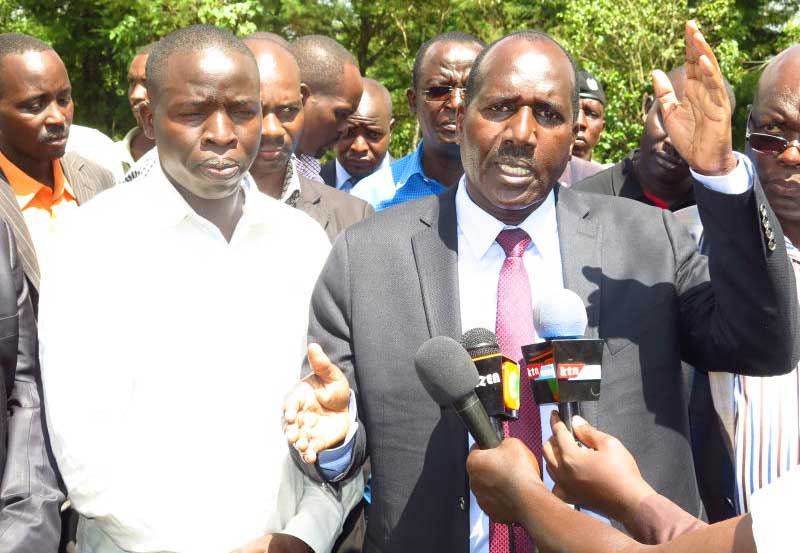 Former Nandi Governor Cleophas Lagat is among people whose homes were raided by anti-graft agency detectives.
The officers, who conducted a major swoop in Nandi county on Monday, descended on the former Governor's three mansions in Nandi, Kapseret and Elgon View in Eldoret.
They are said to have seized documents, as they sought for leads into alleged corruption dating back to 2015 when Mr Lagat (pictured) served as governor.
The operation, which commenced in the wee hours of Monday morning, targeted more than 30 senior officers in the former county government.
"The raid was conducted and it was regarding matters that are under investigation. During the operation, we seized documents and we are analysing them as we try to establish a case against those arrested," said Ethics and Anti-Corruption Commission (EACC) spokesperson Yassin Amaro.
EACC sleuths are said to have carried away phones, title deeds, bank account details, log books and personal files among other documents.
A close associate of the former Nandi Governor told The Standard that Lagat "was in Nakuru at the time".
County Police Commander Patrick Wambani said EACC made an official request at Nandi central police station to be allocated officers to assist in the swoop.
"This seemed to be a top secret operation. I only authorised the allocation of a substantial number of police," said Mr Wambani.
The anti-corruption agency is said to be putting together evidence that could link officials in the former county government to corruption scandals that led to loss of billions of shillings.
And in an indication of the direction the current investigation could take, at least six contractors were also apprehended.
There were claims that unscrupulous contractors colluded with senior county officials to inflate bills, leading to huge pending bills in the county.
Personal effects
Those arrested by EACC officers include former finance executive Charles Muge, former finance chief officer Henry Koech and former principal finance officer Emmanuel Wanjala, whose house in Trans-Nzoia was also searched.
Former Head of Revenue Hellen Katam, who was retained by Governor Stephen Sang as acting finance officer, was arrested in her office and her home combed.
Former Kapsabet Town administrator Josphat Meli was apprehended in Kapsabet.
The homes of former Director of Communication Gibeon Birgen and that of a current official in the same department Kirwa arap Magut were also raided. Detectives are also said to be pursuing former procurement boss Meshack Tankoi.
EACC officers then descended on the home of former County Secretary Francis Ominde in Vihiga County, where he is serving in a similar position.
"Individuals who identified themselves as EACC officials from Nairobi searched my home in Vihiga and confiscated some of my personal effects. They later left and requested that I pick my belongings on Wednesday from their Nairobi office," said Mr Ominde.
He maintained that he had nothing to hide, adding that he submitted his bank account details for scrutiny.
"I am not sure what the officers are after. I allowed them to do their work," he said.
In the past three years, civil society groups have presented more than 100 petitions to the county assembly, Senate and EACC, asking them to check alleged runaway corruption in the county.
Corruption was linked to a number of stalled projects that gobbled up billions of shillings. The stalled projects include the Sh150 million governor's office, the Kipchoge Keino stadium, which guzzled more than Sh200 million, and the controversial Mlango Gate project (Sh50 million).
In May 2017, Roads and Infrastructure Chief Officer Alex Buigut was arrested by EACC officials in the wake of an audit of road tenders signed between 2014 and last year. The official was suspended alongside some of those whose homes were raided on Monday.
During the arrest in an apartment in Langas, Eldoret, EACC officials seized tender and other government business documents, which implicated more than 100 companies and senior county officers in corruption.
Last year, a former procurement officer in the health and water department committed suicide after he was asked by auditors to account for specific procurement in his docket.
Former Transparency Team chairperson Kiprotich Cherargey, who is also the current Nandi Senator, told The Standard the massive EACC swoop in Nandi was the culmination of efforts by civil groups that advocated for transparency in the county.
"Nandi residents have waited a long time for justice, the former regime saw the looting of over Sh12 billion in development funds; this EACC exercise is a culmination of efforts of civil groups to bring perpetrators to justice," said the Senator.
Uniformed police have been deployed to guard the county's finance office where Kattam (current finance officer and former regime's revenue boss) currently works.
Reacting to the arrests, Governor Stephen Sang ordered all his staff to submit to investigations and lauded EACC for the operation.
"I support EACC on its mandate to net all individuals who are suspected to have siphoned county funds," said the Nandi Executive, who encouraged the anti-graft body to conduct a lifestyle audit of all suspects as well.