Authorities raid Ngirita family home in Naivasha a second time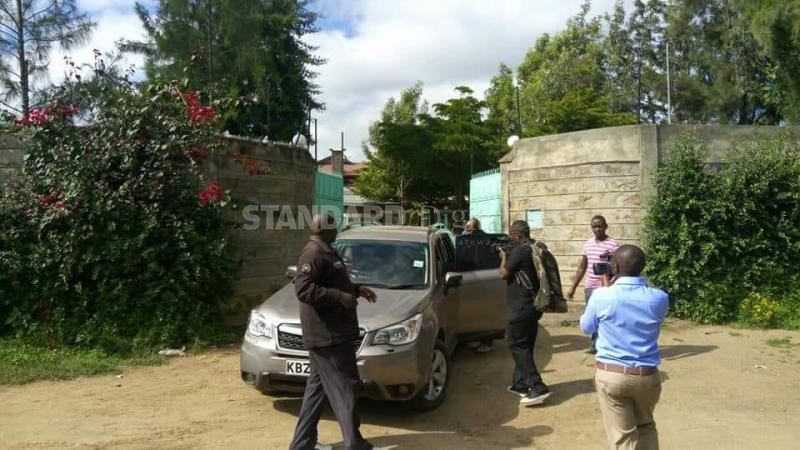 Members of the Ngirita family in Naivasha are crying foul after armed sleuths raided their home on Sunday evening leaving a trail of destruction.
This came as the family whose five kin are being held in prison over the NYS scandal said that their lives were in danger over the ongoing case.
In the latest incident, the over ten sleuths drawn from Nairobi and Nakuru arrived in the home located at Lakeview around 7pm and broke into several septic tanks and sewer lines.
The officers who did not explain their mission to the shocked relatives and workers in the home later left in a huff after learning that their presence had been reported to the local police station.
A relative who declined to be named due to fear said that the officers arrived in three vehicles and broke the gate to their mother's house before gaining access to the compound.
The relative said that officers who were searching for 'something' in particular went from one manhole to the other before unsuccessfully trying to gain entrance into the home.
"There was no search warrant, we came to learn from neighbors that the officers were already in the compound and we suspect something sinister in the whole exercise," said the relative.
According to him, the group later left in a huff after the relatives started making frantic calls to their lawyer adding that they were now living in fear over harassment by some quarters.
A source at Naivasha police station confirmed the raid but was quick to note that they were not involved or informed about the operation.
"The officers did not involve us in their operation and we are yet to know what they looking for that late in the night," said the officer.
The Ngiritas who include the mother Lucy Wambui, son Jeremiah Gichini, daughters Ann Wambere, Phyllis Njeri and daughter in law Cate Mwai have been in custody since last week.
This came as a group of Naivasha leaders and traders accused a section of the media of unfairly targeting their family for the last one week.
They noted that since the scandal broke out, the family had been in the news every day yet the real suspects behind the scandal and who authorized the NYS deals were been covered.
One of the leaders James Chege said that the family was 'innocent until proven otherwise' wondering why the CS in charge of NYS and her lieutenants then had been left out.
"One media house in particular has already condemned the Ngiritas as thieves which is unfair and covered the real masterminds behind this scam but the truth shall prevail," he said.
To fight drought, involve communities
According to the latest information from the Meteorological Department, rainfall will be poorly distributed in April, May and June, and this will have a serious impact on agriculture