17 killed as bus plunges into Siyiapei River in Narok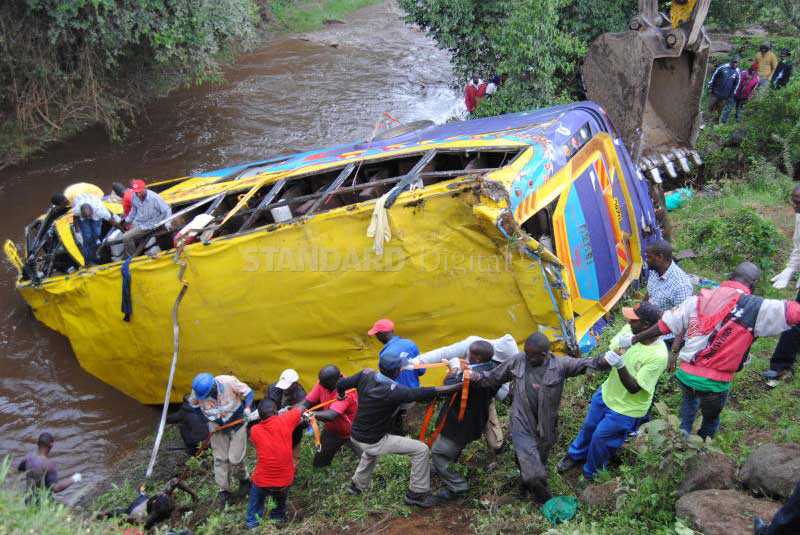 At least 17 people were killed and 43 others injured when a bus plunged into a river in Narok yesterday.
The bus, which was headed to Nairobi from Kendu Bay in Homa Bay County, plunged into River Siyiapei along the Narok Maai Mahiu road
Police appealed to the public to help identify the victims.
Witnesses told The Standard that the driver of the bus belonging to Daima Connections lost control of the vehicle as he tried to avoid hitting an oncoming lorry.
The front of the bus, which was painted yellow and blue, was submerged in water. Rescue efforts were hampered by heavy rains.
"We received information at around 3.30pm that there was an accident. We rushed to the scene and found the bus submerged in water. Several lives had been lost," said County Commissioner George Natembeya.
Relatives were asked to report to Narok police station as efforts to identify the bodies started.
"Out of the 43 injured, four are in a critical condition and are receiving treatment at the Narok County Hospital," Mr Natembeya said.
Brinkley Okoth, a survivor, said the vehicle had a mechanical problem and had been repaired twice since the journey started.
"I boarded the bus at Kendu Bay while other passengers were picked up at Bomet and Narok towns. The vehicle had a mechanical problem as one of the rear tyres had burst but the driver continued with the journey till Narok, where it was repaired," Mr Okoth.
About 10km from Narok town, the vehicle was free-wheeling when the accident occurred, he added.
"I was browsing on my phone and all of a sudden I heard a bang and in a flash I found myself in the river. I jumped out through the window, which was open. Luckily I survived with no injury, although all my belongings such as a laptop, a phone, and other items were swept away by the water," said Okoth.
Bernard Ochola, another survivor, accused the driver — who did not survive the crash — of speeding, adding that he ignored numerous complaints from passengers.
Swept away
"I had to break the window next to me to escape. Unfortunately most of the passengers in the front part of the bus were thrown into the water," said Ochola, a Nairobi-based painter.
He counted himself lucky to have survived. He said he had just taken his wife and children back home the day before.
John Lemaiyan, a resident of Siapei trading centre, a few metres from the scene of the accident, said he was among the first respondents.
"We mainly rescued children and some adults who had injuries on their heads and hands. We broke the windows and got some people out," he said.
The bodies were taken to the Narok County Hospital mortuary.