Narok Governor Tunai calls for unity, urges MCAs to work together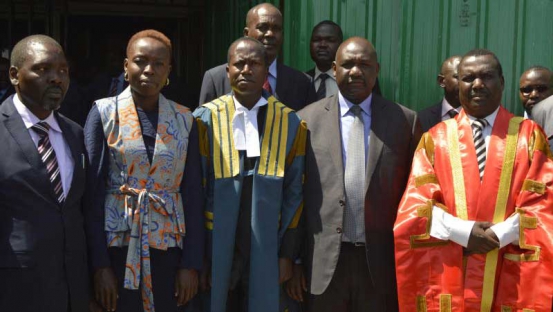 Narok Governor Samuel Tunai has called for unity among Jubilee and Opposition Members of the County Assembly (MCAs) for devolution to work.
Tunai who was addressing the opening of the second County Assembly asked leaders from the various political affiliations to put their differences aside for the sake of development in the county.
"Though I know majority of you were elected through Jubilee Party, some of you came through opposition parties such as ODM and CCM.
"We competed against each other, we may have roughed each other the wrong way but that is now behind us. Let us serve the people of Narok together," said Tunai.
He said this being his last term, he wants to leave a legacy by ensuring that the dream of a developed Narok that was hatched in 2013 comes to fruition. The governor also outlined his achievements in various sectors such as health, education and agriculture. He cited employment of more than 300 health workers in various cadres, over 600 Early Childhood Development teachers as well as Narok Water Project as some of the achievements made under his leadership.
Governor Tunai began his speech with a minute's silence in honour of nine people killed in the ethnic skirmishes between Kipsigis and Maasai communities in Esoit - the border of Transmara East/West. He called on all leaders to be agents of peace.
"We have had a wave of insecurity in Transmara that has left people dead. I was there the other day and my appeal to leaders is to be in the forefront of reconciliation. Development cannot thrive in where there is war," he said.
The county chief also revealed that provision of water to the residents in the arid and semi-arid parts of the county is his priority in his second term.
"Narok is largely a pastoral area and during dry spells our people are forced to travel several kilometers in search of water. This is an issue that I would like to end through sinking of boreholes," he said.
To fight drought, involve communities
According to the latest information from the Meteorological Department, rainfall will be poorly distributed in April, May and June, and this will have a serious impact on agriculture