Nakuru County government will not allow Prophet David Owuour's followers to tear down trees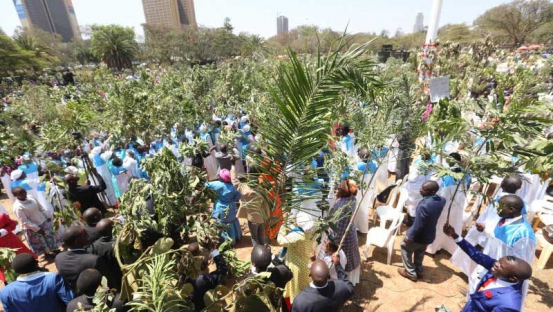 The Nakuru County government has threatened to sue Prophet David Owuor's Ministry of Repentance and Holiness over environmental degradation, starting this Sunday.
The county's Environment Department has accused Prophet David Owuor's Ministry of Repentance and Holiness of using twigs in their marches to celebrate the alleged resurrection of a Mama Rosa.
Rosa Rotirakori from Cheparten village, South Pokot sub-county, is said to have died after being taken ill for about a month only to resurrect days later.
Since then, church's twig-waving followers have been holding processions across the country to mark the alleged resurrection.
"This cannot go unpunished," said Kiogora Muriithi, the county director of environment.
He said that every Sunday, over two thousand worshipers walk in a procession for about five kilometres pulling down tree branches along the route.
"The county government will engage with the church leaders to educate their followers on the need to conserve the environment in towns and their homes," Kiogra said.
If education fails, he said police and county enforcement officers will be ready to arrest and prosecute any worshiper found tearing down branches and twigs in Nakuru this Sunday.
The church has however denied destroying the environment and says it will obey the law.
"Our people are always under instruction not to engage in any activity that would break the law. We are a church and a God-fearing people," says Archbishop John Litunda.
He adds the church is conscious of the environmental impact if its worshipers, in their thousands keep on destroying trees.
The Ministry of Repentance and Holiness's Kings Outreach Church is located at the Nakuru Showground, some four kilometres from Nakuru central business district.
"When we have the celebrations, we often ask worshipers to 'harvest twigs' from their homes and walk back with them after the procession, the archbishop explains.
Archbishop Litunda, a former district commissioner recently told reporters that Kenyans should expect more miracles to happen through the "mightiest, Prophet Owuor."
He said two police officers had repented and joined the ministry, "because they believe in the prophet's miracles."
The prophet causes a spectacle wherever he goes, with his followers cleaning roads ahead of his arrival.