West Pokot leaders challenge colleagues to spearhead peace talks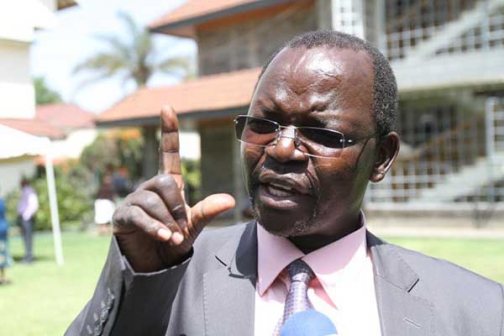 West Pokot leaders have called for a ceasefire in Baringo County following retaliatory attacks in the wake of the gruesome murder of area Member of County Assembly (MCA) and a parliamentary hopeful.
Three legislators, Senator John Lonyangapuo (West Pokot) and MPs Mark Lomunokol (Kacheliba) and Samuel Moroto (Kapenguria) maintained that they cannot remain silent when things threaten get out of hand.
Speaking at Parliament Buildings, Nairobi, the leaders condemned the attacks, warning that locals cannot take the law into their own hands, no matter how painful Loyamorok MCA Kibet Cheretei and Pepe Kitambaa (Tiaty MP Jubilee hopeful) met their deaths.
"The killing of the two prominent leaders is sad just after that of a teacher in the same region. But this is not a guarantee to take weapons to turn against you neighbour. The Tugens, Njems, Pokots and Marakwet should stay together in peace," said Prof Lonyangapuo.
He continued, "Let's allow the security teams in the region look for the killers. Lack of food and drought is worse than the deaths."
They questioned why local leaders are still in Nairobi going about their daily activities instead of joining their people in mourning and finding a lasting solution to the problems bedevilling them like drought.
"We call for ceasefire. Blame games now will only ignite emotions. We appeal to our leaders and kinsmen to stop any further revenge attack and seek peace," urged Lomunokol.
"We appeal to our kinsmen to stop what is happening. It won't help instead it will only worsen the situation. The loss of these leaders should not be an opportunity to lose more lives."
Moroto condemned the incidences, saying even when they have issues with neighbours from Uganda; they called for dialogue among the elders.
"We had problems with the Sebeyi in Uganda and colleagues from Trans Nzoia but we ensured it didn't get out of hand. We took the initiative as elected leaders, what are our colleagues still doing in Parliament and there is trouble at home?" he questioned.
Prof Lonyangapuo said, "We call on our colleagues from Baringo County to quickly go home and console with their people. I am surprised that for the last three days, no leader has gone home instead they are busy exchanging in the media."
The senator said as leader who understands the price people pay in the absence of peace, they cannot keep quiet.
"We are also pastoralists. We cannot sit and watch things escalate in Baringo. We must be part of the citizens' watch, including sleeping under trees. We have done it with Elgeyo/Marakwet county leaders, it can be done in Baringo too," said Lonyangapuo.
He went on, "Some of these challenges are man-made. If leaders fear addressing the challenges they should quit. The electorate has six months to send them packing."
Interior Cabinet secretary Joseph Nkaissery and Inspector General of Police Joseph Boinnet were also not spared the MPs wrath, as they questioned what they are doing to address the situation in Baringo County.
"Nkaissery and Boinnet are sitting pretty think that by ordering operations, the problem will be solved. This is not helping, if you do good, everything will be fine. They should focus more on peace initiatives," said Moroto.
Tiaty MP Asman Kamama was also told to apologise for linking Kanu to the happening, saying it is not a way to resolve problems.
"Kamama should apologies. The killings have nothing to do with party politics. No party fights can lead to insecurity. He should not try to drag Kanu to the happenings there," said Lonyangapuo.
He continued, "If he (Kamama) knows in particular the killers, their party number and residence he should say. It is not good to throw words, it will only stir emotions."
Last Wednesday, a teacher was killed after suspected bandits sprayed bullets at Kapindasum primary school in Baringo South.
The weekend killing of the two leaders came just a day after Baringo leaders were summoned by Nkaissery over insecurity in the area.
Those summoned were Governor Benjamin Cheboi, Tiaty MP Asman Kamama, Speaker William Kamket and Senator Gideon Moi.