Four people killed in Naivasha road accident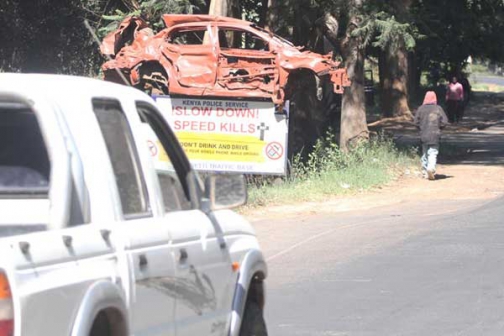 Four people died and one person was seriously injured following a grisly road accident involving two trucks along the Nairobi-Nakuru highway.
During the incident near Marula farm which is 10kms from Naivasha town another passenger escaped unscathed as transport along the busy road was paralysed.
One of the three men died on the spot during the Wednesday evening incident while the other three succumbed to their injuries while undergoing treatment.
The accident occurred after a trailer heading to Nakuru from Nairobi rammed into an incoming trailer killing the driver on the spot.
A witness Rose Njeri said that the overtaking trailer was to blame adding that the driver was in high speed and driving carelessly.
"The trailer was overtaking a fleet of vehicles when it ended up hitting the other truck with one person dying on the spot," she said.
Speaking on phone, the superintendent in charge of Naivasha sub-county hospital Dr Joseph Mburu said that they received three patients who were seriously injured.
He added that the trio died as plans were underway to transfer them to Kijabe mission hospital for specialised treatment.
"The three were suffering from head injuries while two had fractures but unfortunately we lost them while undergoing treatment," he said.
A senior police officer who declined to be named confirmed the incident adding that the bodies were lying at the Naivasha mortuary.
"The accident was caused by careless driving and overtaking in which four people including the two drivers have died," said the officer.
At the scene, personal effects soaked in blood were littered all over as traffic police moved in to manage the traffic snarl-up.
Meanwhile, a 14-year-old boy was lynched in Karai estate in Naivasha after he was caught red handed stealing chicken from one of the homesteads.
The teenager who was alone was found carting away three chickens in the wake of increased cases of house breaking in the area.
A witness Samuel Njue said that the owners of the home had left when the teenager struck and broke into the house and used a gunny bag to ferry the stolen chicken.
"We have seen an increased in cases of house breaking during day time and irate residents decided to lynch the suspect after arresting him," she said.
The body was later collected by police and taken to Naivasha mortuary as an inquiry file was opened following the Thursday midday incident.