Joy as Kenyan man who has been missing for 62 years finally returns home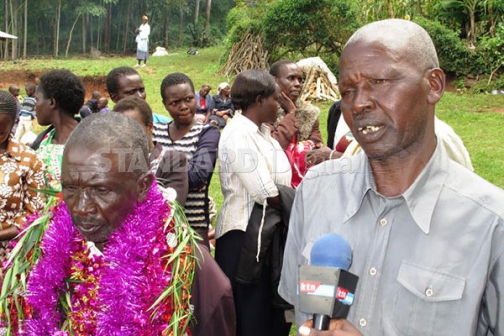 UASIN GISHU: William Kipsum Songok left home over half a century ago in pursuit of greener pastures.
The first born of the late Songok and Martha Koech left their home, which was then in Kitale, for Endebess in 1954 to herd a white settler's cattle. His family tried over the years tried to locate him in vain. But they have never lost hope.
Before Kipsum's father died, he instructed his children to do everything to ensure that his oldest son returned home. They have been hoping against hope that his dying wish would be fulfilled.
That wish finally became a reality last Tuesday.
Kipsum, who left home as a boy, returned an old man, his 62 years of absence conspicuously written on his furrowed face and grey head.
It was song and dance in Kapkeben village, Ziwa location in Uasin Gishu County, as he was reunited with his brothers and sisters - and their children and grandchildren. He himself is childless, and is still a bachelor at the age of 75.
To express their boundless joy, Kipsum's relatives garlanded him like a soldier who had returned home after winning many battles, and was sandwiched between dancing relatives and neighbours who could not conceal their excitement.
The wide smile on his wrinkled face described his own joy as he was received into one of the tents erected to shelter visitors who attended the homecoming ceremony.
Take a quick survey and help us improve our website!
Take a survey
AFTER CIRCUMCISION
"I left our Kitale home in 1954, two years after circumcision, and followed a mzungu (white man) who used to purchase livestock. I went with him to the far ends of Endebess where I herded his animals for about six years. But then he sold the farm and left the country," Kipsum narrated.
He said when he returned home, he found his family had moved from the Kitale farm where they had been living because the farm had been sold.
"I tried to locate them but failed. I then moved to Kaplemoru village in search of my uncles because this was my mother's native home, but I could not find my kinsmen. It was then that I began doing casual jobs. One farmer employed me to take care of his cattle," recalled Kipsum.
He said the farmer, who had a business and another home in Mombasa, entrusted him with the Kaplemoru farm and even allowed him to live in the main house.
"I had lost touch with my family and stopped looking for them. As time went by, I even grew fearful of meeting them because I thought we would not bond easily," he confessed.
Sammy Koech, the third born in Kipsum's family, said his brother was taking care of calves on a colonial farm owned by a Mr Wingard and that he followed the settler to Endebess.
"Our parents were constantly searching for him and before they passed on, insisted that we should do our best to bring our brother back home," said Koech.
Philip Ng'etich, who was circumcised in the same year as Kipsum, said he lost touch with his friend in 1962. For him, it was a miracle to see him again after five decades.
Eunice Tuwei, Kipsum's youngest sister who was born after he left home, says their parents kept insisting that he should be brought back home.
"We never took our parents' wish seriously until something bad happened in the family. One of my brothers lost his two children in quick succession and we thought it could be related to the gap left by Kipsum," she said.
According to Tuwei, she and her siblings had been fruitlessly looking for Kipsum when one of her friends hinted at his whereabouts.
"We were chatting about family issues and she told me that her in-laws came from Kaplemoru. I told her that my mother was born around that area and she said her family had invested in livestock keeping and had a long-serving herdsman known as William Kipsum," said Tuwei.
Hearing that name prompted her to probe further and she even engaged one of her cousins, James Kipyegon, to pursue this new lead following a family meeting.
LOCAL PREACHER
"My cousin went to Kaplemoru in February this year with a local preacher and tried to find Kipsum, and came back with a positive result! The challenge was to convince him that we were members of his family," she added.
According to Tuwei, their attempts to bring Kipsum home since February failed twice. It wasn't until last weekend that he accepted to travel back with them.
"We were concerned because he refused to accompany us on two occasions. This prompted us to pray to God to change his mind and we are excited that he is finally here just as our parents wished. We are crowning his homecoming with thanksgiving prayers because God kept him well all these years," said an elated Tuwei.
Kinisu's resignation was long overdue
The resignation of the Ethics and Anti-Corruption Commission chairman Philip Kinisu was long overdue. Public officers serve on the basis of trust and that is why they are expected to be beyond reproach.