No road, no oil, Turkana leaders threaten
LODWAR: The government plans to transport crude oil from Lokichar basin to the sea port in Mombasa by road would be blocked until the demands by locals are met.
Turkana South MP James Lomenen while addressing residents at Lokichar said unless the state builds the dilapidated Lodwar-Kitale road, compensate locals and come up with a clear oil revenue sharing formula no drop of oil will cross to Mombasa refinery.
A high placed source at the ministry of Energy had indicated that there were plans to transport crude oil by road from Lokichar basin in Turkana South sub County before the end of the year.
According to the source the trucks would transport the crude oil to Eldoret from where they would be moved to Kenya petroleum refineries storage tanks in Mombasa before the end of the year railway.
"We cannot allow even a drop of oil to cross to a refinery in Mombasa when our demands have not been met. The President is even aware our roads are pathetic and needed urgent repair before the crude oil is transported. This was part of our discussion with the ministry," Lomenen said.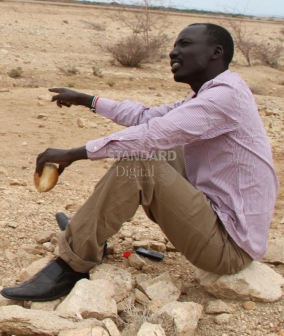 Lomenen said parliament recently passed a petroleum bill 2015 sponsored by Turkana Woman representative Ms. Joyce Emanikor that will see locals get 10 percent of oil profits and the oil producing counties to get 20 percent oil share.
The MP said the bill has been taken to senate for approval adding that once approved and assented by the president locals in oil exploration region will have a stake on oil proceeds.
The MP said locals should also be given a share in trucks that will transport crude oil as part of government goodwill to create employment for locals in the region.
British Tullow Oil Plc and Africa Oil Corporation have discovered 600 million barrels of oil in northwest Kenya and the government want to transport by road then by railway to a refinery in Mombasa.