The cut: Outlawed but still going strong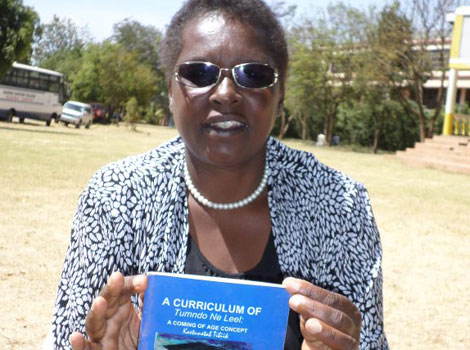 She is a practising nurse and for three years, she helped young girls face the cut, better known as female genital mutilation (FGM), even thought she knew she was contravening the law. But that was then.
Cheruto (not her real name) has since stopped engaging in what she calls a "lucrative business". But while she was active, she did it at her clinic in the North Rift.
FGM earned her over Sh5,000 for every girl she handled. She says that a number of nurses are still involved in FGM across the country. Their activities go unnoticed because attention is usually directed at older women in the society.
"Many women in the rural areas started to appreciate that the traditional circumcisors' methods were unhygienic. They saw the need to involve us because it was safe and there was confidentiality about the practice in the health centres," she says.
"Parents would bring their daughters to have the cut at the clinic. Nobody knew what was happening inside except me and the family involved," she adds.
Cheruto is one among many health practitioners who have, at one time or another, contributed to the 'mutation' of the outlawed FGM that was traditionally done in the village setting. She is now actively involved in helping young girls experience an alternative rite of passage.
But even with this safer, non-mutilating method of helping girls transition into women, Cheruto notes that FGM remains rampant in pastoral as well marginalised areas despite stringent Government measures.
She says she felt compelled to stop when she realised how many girls were being forced to drop out of school after the cut.
"There were so many girls being married off at a tender age and facing bleak futures that I just had to stop playing any role in FGM," she says.
Peris Sogome from Kerio Valley in Elgeyo Marakwet County will never forget the day she had to face the cut. That was in 1977.
Sogome, 55, says despite coming from a religious background, she still had to experience a very difficult three months of healing after the cut.
The mother of four says while she was still in seclusion to heal, 12 suitors had already asked to marry her.
"When I was in the 'camp' I received letters from the suitors each congratulating me for successfully going through the rite of passage and spelling out their plans for marriage," she adds.
Sogome says she was married off at 18 years to one of the suitors, a young man, and could no longer continue with school as they started a family.
In 2003, she was trained as a counsellor in the alternative rite of passage programme, which does not involve the cut.
Dialogue, not force
"I realised I could make a difference to the younger generation by advising them about the new way of transitioning into women minus the pain and likely dangers of FGM. And I am grateful that all my children were spared the cut," she notes.
Sogome, who is currently the regional co-ordinator of 'Tumdo Ne Leel' (alternative rite of passage) in the North Rift insists the vice continues due to the Government's failure to engage communities in talks instead of using force.
Last year, police attempts to rescue 31 girls who were forcefully circumcised in Tinyar and Kapkabutwo in Marakwet East and Elgeyo Marakwet counties were thwarted when local residents turned hostile.
The police were unable to access Chugor sub-location where the girls were living in seclusion after the cut because villagers threw rocks at them from the hills.
"We feared for the safety of our officers because the locals had surrounded the villages where the girls were from vantage positions. They threw stones and others threatened to roll down rocks," said Hussein Alaso, the area Deputy County Commissioner.
Despite Government officials receiving the names of 17 people who facilitated the circumcision and protection of the girls, no arrests were made.
"The fear of being cursed for revealing details of FGM has always been a challenge. This makes it hard for the victims and circumcisors to be arraigned in court," says Sogome.
She adds that the reason why the outlawed practice has taken so long to eradicate lies in outdated perceptions.
"Those women who did not face the cut when they were young will eventually be forced to when they are mothers and their sons want to get circumcised. They (mothers) are told they will not be in any position to receive a special ceremonial herb known as 'sinendet'," she says.
Women Rights Institute for Peace Executive Director Mariam Suleiman says married women who escape FGM are now being threatened with the cut. She says husbands are forcing their wives to be circumcised so as not to miss out on the family inheritance.
Elgeyo Marakwet Woman Representative Susan Chebet says the fight against FGM can only be won when communities appreciate the benefits of the alternative rite of passage.
Chebet wrote 'Tumdo Ne Leel', a book which is being used to educate girls on the Kalenjin culture and deter them from agreeing to the cut. At the end of one week of thorough training, they graduate in a ceremony witnessed by their parents.
Nurses union signs new CBA deal with hospital
Frequent nurses' strikes that have haunted the Moi Teaching and Referral Hospital (MTRH) in Eldoret for the last two years will be a thing of the past after the hospital and their employees signed a Collective Bargaining Agreement (CBA).