Farmer dives into fish project, nets big harvest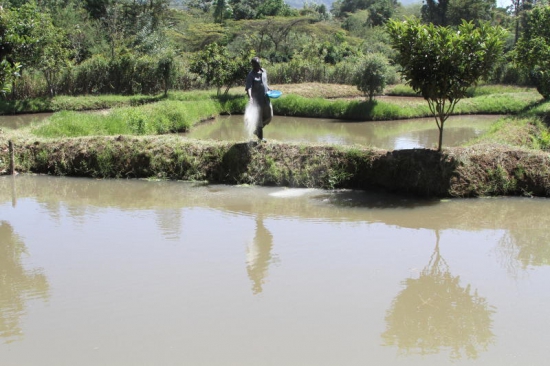 In his many travels as Kenya Air Force communication officer, Stephen Wang'ombe, 55, not only got exposed to the ways of other cultures, but also had a taste of different culinary. And it was fish that awed Wang'ombe that when he was discharged from the military, he decided to venture into fish farming.
"During my travels, I met well-established fish farmers in Western Kenya who were reaping highly from breeding fish. I decided to try the project and here I am, earning money from my seven fish ponds at a low production cost," Wang'ombe tells 'Smart Harvest'.
From one fish pond holding 500 fingerlings ten years ago, Wang'ombe who lives in Mihingo village, Subukia Sub County, today has seven fish ponds with 5,000 monosex tilapia fish.
He used his start-up capital of Sh10,000 to construct a basic fish pond and buy 500 fingerlings from a hatchery in Sagana, Central region. The ponds, located at the hedge of the farm, are fenced with chain links to prevent predators and thieves. He taps water that flow to his fish ponds from an adjacent river.
To supplement nutrients in his ponds for fish, Wang'ombe has planted fruit trees along the pond dykes, which also provide shade especially during the dry season.
"Ponds should be located near homesteads to prevent thieves and predators," he says.
From the fish ponds, the former military officer harvests an average of 600 fish from each pond after every seven months, earning him Sh420,000 after selling to the local market including hotels and individual consumers.
"A farmer cannot harvest all fingerlings in a pond because of predators like birds and snakes. For instance, I have approximately 1,000 fish in a pond, but I only harvest an average of 600," he says.
To satisfy high market demand of white meat, he has established a hatchery for breeding and is modernising the ponds. The modern ponds is used to train farmers and students from different institutions.
Currently, the farmer trains agriculture students from Mount Kenya University among other institutions at a fee.
According to Wang'ombe, fish farming is cheap compared to other ventures like crop growing and rearing livestock.
He uses between Sh1,000 and Sh3,000 to purchase feeds that include fish pellets and vegetation.
"Fish are fed twice a day. The meals, which are locally available include kitchen waste, green leafy vegetables and left over ugali. I supplement these with pellets, which I buy at Sh1,500 per 20kg bag," says the farmer.
He says a farmer can often integrate fish farming into the existing farm to create additional income. For instance, land that is poor for agricultural production can be devoted to fish farming.
"Fish project requires only capital to purchase fingerlings and construction of the ponds. The rest is proper maintenance of the dikes," he explains.
Fish farming, he says, is favourable on clay soils due to its characteristic of holding water longer as compared to other soils.
The pond is located on a gentle slope of land with well finished dykes to avoid collection of dirty water from the surrounding area.
"Each pond should have inlets to allow fresh water to the pond, including outlets to avoid overflowing of water and removing dirty water from the pond," he says.
Before stocking, the pond is filled with fresh water, rocks placed on the pond bottom at the spot where water lands when coming in from the inlet pipe to keep incoming water from making a hale and eroding the pond bottom.
After controlling flow of water, inlet canal is opened followed by filling of the pond. The filling is done slowly to avoid subsidising the dikes following uneven wetting.
It is advisable that the water need not be too full to prevent overflowing.
"Correct level of water should keenly be observed. Water flowing in the pond should be controlled as this will slow down fish growth by flushing away natural fish food," he advises.
During stocking, he advises farmers to wait for between four and seven days to allow the natural food production in the pond to reach a sufficient level to sustain fish.
"Stocking of fish is conducted procedurally. For instance, a farmer needs to first put water and fertiliser to allow growth of nutrients before putting in the fish," advises Wang'ombe.
To achieve a high production of fish in pond, a farmer should practice regular maintenance and monitoring that entails observing their feeding routine and watching out for predators.
Water quality is also vital in for good health and growth of fish that require farmers to clean the screen of the water inlet, outlet and checking for possible water leaks.
"Fresh water is all that is required for fish farming. A farmer should ensure there is enough oxygen, pH, colour, transparency and temperature," he says.
The main challenge in fish production is predators mostly snake and birds, he notes.
Subukia being a wet region, he says tilapia fish variety takes more months to mature as the fish are used to warm areas that affect his market supply.
He is planning to modernise the fish ponds and stock them with trout fish that do well in wet regions.
"Maturity of tilapia fish in wet climatic areas is slow. To adapt to climate, I plan to stock the ponds with trout fish and sell to different region of the country," he says.
What you need to know about greenhouse tomato farming
Like most young hustlers, Darius Cheruiyot of Silibwet, Bomet County has tried his hand in almost everything, from being a mechanic to a driver and a boda boda man. But none of those ventures given him satisfaction like farming.