Fresh demonstrations rock Lodwar over Kapedo massacre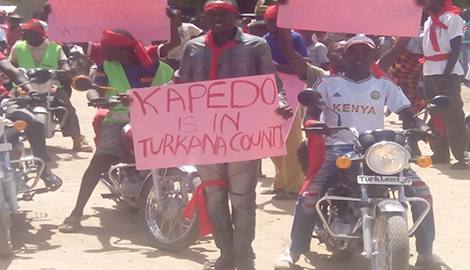 Turkana residents demonstrating over boundaries
TURKANA, KENYA: Turkana County residents today held a peaceful demonstration in Lodwar Town as a tribute to the fallen soldiers in Kapedo and to air their grievances on the worrying rate of insecurity at the borders of the county.
Donned in red ties and wrapped in red clothes, the residents carried an empty coffin and placards.
According to Eliud Emeri the Executive Director of Turkana Bio Aloe-Vera (Tubae), the residents of Turkana are saddened by the killings of both the police officers and the residents along the pilot Turkana border.
"We are here to condemn with the strongest terms possible the continued killings and latest massacre of Kapedo security personnel among the many killings across the county and beyond," said Emeri.
He added that the residents are not happy about the laxity in protection of the Turkana people as stated in the constitution.
Emeri demanded that the government brings to an end the continued killings of Turkana residents and security officers.
He added that the residents also wanted the government to remind the Pokots of their boundaries as delineated in 1963.
"We demand as our constitutional mandate that the government immediately brings to an end the continued killings. The government should also remind the pokots about the boundaries as stated in 1963," said Emeri.
The group further asked the media to report accurately saying that most of them report that Kapedo is in Baringo yet it is in Turkana.
"The media should know that Kapedo is in Turkana and not Baringo," said Lydia Asekon a resident of Turkana.
Mishack Mwangi, the acting Deputy County Commissioner thanked the group for mourning with them as they mourned their colleagues.
He added that he is working with the relevant groups to ensure that security is beefed up in the volatile region.
"The county security team has been following up on beefing up security and we are also working at getting armoured vehicles to the police at the borders and helicopters for surveillance," said Mwangi.
Mwangi said that he hopes that the police operations at Kapedo continue so that those who killed officers and stole their guns will be brought to book.