By Emmanuel Mwendwa
Rarely is a theatre stage used locally for advocacy of children related issues. But early next week, a two-day musical production titled Chokora: Dustbin Celebrities presents a rarely acknowledged, flip side perspective.
This dramatised performance will be held in commemoration of the Day of African Child marked annually on June 16. It revolves around real life experiences of two former street boys Victor Ochieng Juma and Samwel Okango Andeso.
Inspirational musical
Four years ago, the duo popularly known as Machizi left the streets and embraced music as a vehicle to quit the misery of harsh street-life.
Read More
"We underwent so many difficulties and hardships in the streets – ranging from hunger, negligence, lack of education to mistreatment by indifferent members of public," says Victor.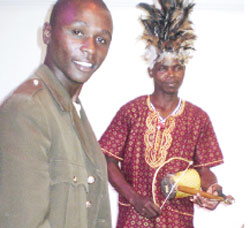 Victor Ochieng Juma and Samwel Okango Andeso.

Aspects of their experiences comprise the story-line of this heart-wrenching yet inspirational musical, produced by singer, composer and artiste Sali Oyugi.

The musical, which essentially celebrates a humane side of ex-street kids keen on pursuing a positive life also highlights often suppressed aspirations, dreams, feelings and ambitions many would hardly associate with the so-called urchins.

"We have tried to capture the state of desperation, confusion and misery especially little children who somehow find themselves in the streets go through, seeking to find their place in the cold underworld," explains Sali.

The musical, being staged at Goethe Institut auditorium under the Muziki wa Kenya banner on Tuesday and Wednesday next week. It is also expected to feature a fusion of Kenyan urban, traditional roots music, story-telling and dance performances.

Young children and orphans from the Laini Saba (LAPCA) rehabilitation project in Kibera, are also slated to recite poems. The documentary will screened. It delves in the life of street boys and girls, who ultimately drift into a life of crime and prostitution respectively.

The Machizi duo are set to perform some of their latest songs, though they are already credited with several hip-hop singles, which catapulted them into the limelight.

Performance

"Our core message is simple: most street children just require a chance for redemption and support for them to be transformed. Deep down they are innocent children who find themselves abandoned in the streets — their anger is inevitable and naturally directed at a society that turns a blind eye to their plight and miserable existence," observes Sali.

According to Victor, they managed to overcome bitterness, which builds up as harsh street life pushes many young boys and girls into rebellion, defiance, crime, drug abuse, and even prostitution to survive.

It was the only way to crawl off the mean and nasty streets. "We may not as yet be making so much money from our music but performing arts could go a long way to serve as practical rehabilitative measure — not only to pull off kids from the streets but also provide them with a lifeline away from the easy option of ending up in crime," says Victor.

The musical Chokora: Dustbin Celebrities not only raises moral and pressing questions about the government's failure to address the thorny dilemma of getting kids off the streets.

It also sheds light on a largely indifferent society, which seemingly opts to ignore thousands of helpless children ironically referred to as the promise of the future and leaders of tomorrow.