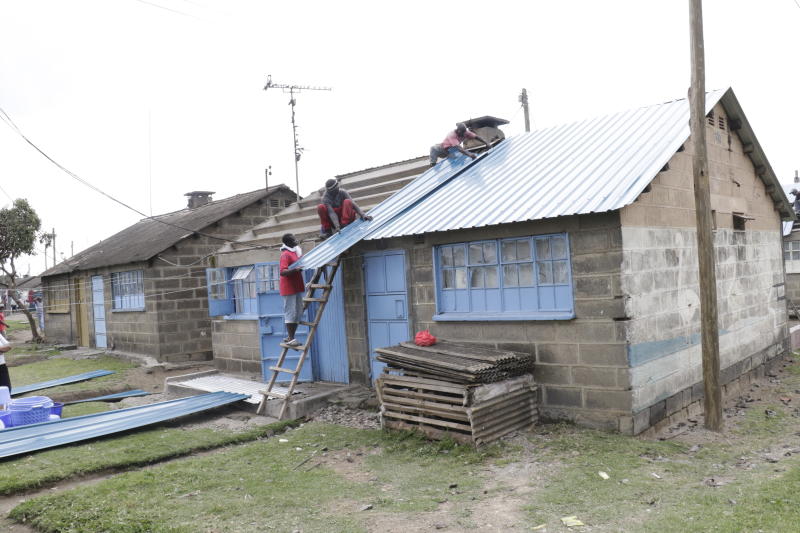 The National Environmental Management Authority (Nema) is pursuing officials who defied an order to stop a Sh200 million project to phase out asbestos roofing on county buildings.
Asbestos, a natural mineral long used in roofing because of its resistance to heat, electricity and corrosion, has been linked to some forms of cancer and lung disease.
It was against this background that the county embarked on the multi-million project to replace asbestos roofing with corrugated iron sheets in all of its houses.
But the project has put the county at loggerheads with Nema which has ordered it stopped for not following official guidelines for removing and disposing asbestos roofing.
The authority has since arrested the contractor and issued a warrant of arrest for Nakuru County lands and housing chief officer, Judyleah Waihenya, for defying orders halting of the project until official guidelines are adhered to
"On September 20, we issued an order stopping further activities until an Environmental Impact Assessment was done but the county went it," Fred Kinambise, a Nema official.
Many government facilities in the county including hospitals, schools have weather-beaten asbestos roofing that are feared to be releasing microscopic asbestos to the air and water.
"The dangers of handling asbestos without following the correct and safe procedure are enormous, which is why there are guidelines in place," said Kinambise.
He accused the county of not conducting a public awareness campaign before embarking on the project.
"One challenge stems from residents refusing to let go of removed asbestos roofing for disposal and instead using them to construct other structures," he said.
Residents who spoke to The standard said they were not aware of the dangers posed by asbestos.
"The roofs have been leaking and our only plea was to have them replaced.Nobody told us about the dangers," said Terry Nyaga, a resident of Kimathi Estate.
Local leaders said Nema and the county should work together to find a way forward on replacing the asbestos roofs.
"In Kivumbini ward, 80 per cent of houses have asbestos roofing. The roofs are old and residents tap rain water from them," Wilber Onyango, Kivumbini ward rep.
Eddy Kirago, Flamingo ward rep said there are 1,512 housing units whose asbestos roofing is yet to be replaced despite money being allocated for the project in this year's budget.
"There is more to be done in raising awareness so the process proceeds smoothly," he said.
However, county communications director, Beatrice Obwocha, said proper asbestos disposal measures have been put in place.