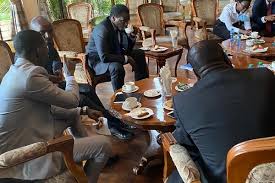 Rais wa Chama cha Wanasheria Nchini, LSK Nelson Havi ametetea hatua yake na wanachama wengine kunywa chai katika majengo ya bunge hapo jana licha ya kwamba walistahili kufanya maandamano ya kukwamisha shughuli kwenye maeneo ya bunge. Kupitia mtandao wake wa twitter, Havi amesema hivi niki-mnukuu,
"In war, the Kitchen is the first place occupying forces take over after a conquest."
Mwisho wa nukuu.
Chama cha Wanasheria LSK kimesisitiza kuwa wabunge hawana mamlaka yoyote kusalia ofisini wala kuendesha shughuli zao baada ya kukamilika kwa makataa yaliyotolewa na chama hicho kwa wabunge hao kung'tuka.
LSK inawataka wabunge hao waondoke ofisini kwa kushindwa kupitisha Mswada wa Thuluthi Mbili ya Uwakilishi wa Kijinsia jinsi alivyopendeleza Jaji Mkuu, David Maraga na kumshauri Rais Kenyatta kulivunja bunge.
Hata hivyo, kesi iliwasilishwa mahakamani kuhusu suala hilo huku mahakama ikipendekeza jopo maalum libuniwe kulijadili kabla ya Rais kuafikia uamuzi.