By Gilbert Wandera in Cairo
The Kenyan team could not have asked for a tougher opposition than Egypt whom they face tonight in the second semi-final match of the Nile Basin tournament at Police Stadium.
The match kicks off at 8pm Kenyan time and will be preceded by the Uganda Cranes/Congo fixture at the nearby Military Stadium. Hosts Egypt have showed impressive form in this seven-nation tournament, almost effortlessly winning all their preliminary matches.
Featuring the likes of Mohammed Aboutrika, Mohammed Medo and Ahmed Ali, the Pharaohs have been on a roll, showing the ability to win by huge margins if left to play their game.
Tanzania suffered their worst wrath after losing 5-1 and Burundi were no match either, going down 3-0. It was only Uganda Cranes who withstood their pressure, conceding a late goal after holding on brilliantly for the entire match.
Slaying a giant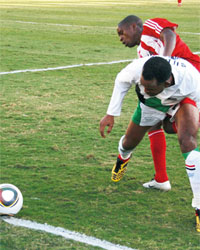 Haitham Moustafa of Sudan (front) and Kenya's Levy Muaka during the preliminary round match of the Nile Basin Tournament. [PHOTO: GILBERT WANDERA / STANDARD]

Can Kenya do it? Czech based striker Patrick Oboya believes there is nothing to fear about their rivals and insists morale in the Kenyan camp is at an all time high after being paired with Egypt.

"We are not afraid of them or their big names. On the pitch, it is 11 against 11 and we see it as a chance to make history. The surest way to be famous is to slay a giant and that is what we want to do," he said at the team's hotel.

Oboya, who has played less than one hour in this competition has been getting better with every game and is mostly to start against Egypt today. He has promised to make up for his wasted chances against Congo last week in a match Stars lost 1-0.

Kenyan defence

Kenyan coach Zedekiah Otieno admitted he is worried about his inexperienced Kenyan defence, which gave Congo a penalty on Tuesday.

"That penalty should not have been if we had an experienced defence, but I have talked to my players and encouraged them to take this match like any other. They do not have to fear the Egyptians," he said.

Apart from coming up against vastly experienced players, the young Kenyan side should also expect some intimidation from a huge fan turn out. The home fans have been very loud and do not stay silent even when the Pharaohs have not scored.

Congo should not expect an easy passage to the final as they play Uganda Cranes in the first semi-final match.

Though carrying a vastly experienced side, the Congolese have proved they are beatable and hardly scrapped through Sudan on Tuesday needing a penalty to win the match 2-1.

The winners today will play each other in the final match on Monday night with Sh14million at stake for the top side.