Jaguar fears for his life
High-riding Ogopa singer Jaguar is fearing for his life after thugs shot and injured his brother in the wee hours of the morning, last Saturday. The musician, who is also an established businessman known for his state-of-the-art rides, had been partying the night away in Westlands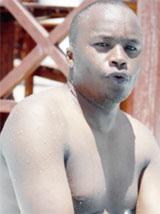 Jaguar

before the incident happened. "We left Westlands shortly after 3am in different cars. Nick (my brother) headed to Dam Estate where he lives driving his red Mercedes when a car which had been trailing him along Langata Road overtook him. The occupants of the car then ordered him to stop, but he did not and they started shooting at him," Jaguar told Pulse.

"They shot him on the right hand before he reversed and speed off to Langata Police Station where he reported the matter. He is still receiving treatment at Nairobi Hospital," the singer added.

Now, the singer reckons that the thugs could have mistaken his brother for him saying they could be after his business money. "Word out there has it that I am the one who was shot since my brother and I look alike. I could as well have been the target and somehow, I fear for my life."

Six months ago, a Nanyuki-based deejay was shot by thugs in the early hours of the morning as he was dropping his girlfriend from a nightclub. The deejay who was shot in the head is still in hospital.

A few months ago, Event Factory CEO Dan Odhiambo was attacked by gun wielding thugs in Langata during the day. Dan and his colleague were stopped by unknown men, who were apparently thugs at 3pm. They flashed guns and forced them inside the car and drove for a short distance before beating them. The thugs left them injured and took off with a huge amount of money and personal belongings. Watch out celebs!
Brenda: It's the good life
You might remember her from the collabo Moss Moss with the late E-Sir. But Brenda is not as 'slow' as her music career has been when it comes to chilling in the best apartment.