By Kiundu Waweru
As the world gears up for the Day of the African Child on June 16, one woman is full of anticipation. Irene Mureithi has dedicated herself life to the service of children in what she says is her life's calling.
Since 1991, June 16 has been celebrated in commemoration of hundreds of black children in Soweto South Africa who were shot dead in March, 1976, for protesting an inferior quality of education they were forced into.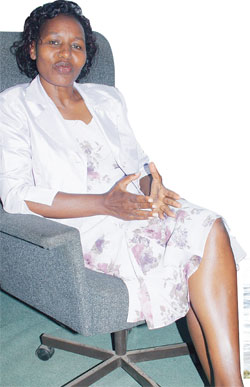 Irene Mureithi, the Executive Director, Child Welfare Society of Kenya
Mureithi believes this neglect is reason for the incessant problems bedevilling Africa — poverty, corruption, Aids and violence. But she believes there is hope — and only through concerted efforts from all stakeholders, and particularly the government, to empower the African child.
Read More
Mureithi joined the Child Welfare Society of Kenya in October 2002 when it was on the verge of collapse. But this notwithstanding, she got in with arms outstretched.
"Close friends talked me out of it. One donor wondered if I had done my research well but I ignored them all," says Mureithi. "I was determined to restore the organisation's lost glory by all means possible".
Her passion is evident as she narrates, quite animatedly, her glorious journey through life, working with children. Her eyes speak volumes, glowing with each stretch down memory lane.
Prior to this, Mureithi worked as a Children's Officer in Eldoret between 1989 to 1994, then moved to Thika until 1997, in the Department of Children's Services, before she called it a day.
"I was exhausted and needed to inhale some air", she says. She started a real estate consultancy firm that was a great success. Because the money was good, never had she imagined she would ever work with children again.
But two out-of-this-world experiences would leave Mureithi baffled.
"In 2001, I had my first baby. When I held the baby in my arms, something snapped in me and I cried endlessly", she says. "… I cried for all the children out there, who could never feel the joy of loving arms around them, I cried for the mothers who, for different reasons could never know the joy of holding a baby in their arms".
defining moment
In early 2002, she attended a church service. She says: "The pastor seemed to talk to me. He spokeof some one who had been called to take care of under privileged children. Then I felt I needed to go back to serving children but after a while, the thought vanished and I returned to businesses".
Later that year, she would meet a children's officer, who was a former colleague. At the time, the welfare society was looking for a director and the lady cajoled Mureithi into applying for the job. "Initially, I laughed it off. I did not need employment. Indeed, I had vowed never to get employed. But something nagged me," she says.
In a strange twist of fate, the friend, ensured Mureithi had written the application letter. Mureithi obliged if only to get rid of her. But she was short listed, and finally got the job. Then the nightmare began.
"When I served as a children 'sofficer, the Welfare Society was an epitome of success and securing employment there was difficult. Now, here I was, the head, confronted with a dilapidated office building with the front veranda roof caving in.
My official car proudly 'sat on stones' in the front yard. The staff was a demoralised lot, with one-year salary arrears; I joined the bandwagon. I worked for eight months without pay".
Life was a roller coaster of problems in the first two years. Her business sunk, and was auctioned. Sadly, the same picture played at the Welfare Society as well. "Court orders became the order of the day, auctioneers threatened us, but together with the dedicated staff and the board, we persisted — as a leader, I had to remain positive".
She adds: "I realised, first and foremost, that we had a dedicated staff and a young, vibrant board of Governors. The branches were doing well as they had grassroots support from the community. And at the headquarters, we had the office building which was actually an asset."
Someone agreed to renovate the office building on Langata Road on credit. Then they brought in tenants and the rent money went into paying staff salaries.
After two years, the Child Welfare Society begun rising on its feet again. They revived some of the branch offices in Malindi, Eldoret, Kitale and Kericho.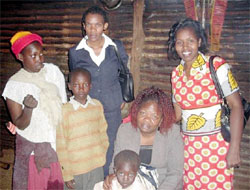 Mureithi, far right, with colleagues share the joyous moment after a mother (far left) was reunited with her sons. Photos: Courtesy
Today, with Mureithi at the helm, the head office boasts 25 members of staff, up from six in 2002, eight social workers, up from one and 14 working programs from an initial three.
The annual operating budget has increased by more than 200 per cent while the organisation's account has skipped from a deficit three years ago to a surplus. But she is too careful to take all the credit for a job well done.
"I can't really say it's my effort, I think it is a miracle", says Mureithi.
Families reunited
Perhaps her most outstanding achievement at the Child Welfare Society, in collaboration with Department of Children's Services and other stakeholders, is the registration and reunification of children separated from their parents during the 2008 post-election crisis.
Although they managed to register 23,000 children, it was no easy task. "The team was determined and courageous despite threats of attack from the warring communities", says Mureithi.
Eventually, the registration hit 6217 children, with 1592 of them getting reunited with their parents.
Apart from reunification, the initiative also traced children and parents who did not know the whereabouts of each other.
"A child needs to grow up in a family unit. Children's homes do not offer this and our mission has been to place the children in foster homes, adoptions or reunify them with their parents," says Mureithi.
Ripple effect
The Child Welfare belt is also reaching out to child commercial workers at the Coast. "We have reached children as young as 12 and 13, sex workers, rehabilitated and taken them back to school. In the schools we have the 300 child rights clubs(ROCs) where children are taught on their rights".
Her achievements aside, Mureithi says her best moment was when she received a call from some young men referring to her as 'mom'. They said they were grateful to her for rehabilitating them from the streets in 1991. "They have since started their own organisation where they rehabilitate street children in Eldoret", says a proud Mureithi.
She says of the African child: "We need to end poverty. We can only achieve this if every child gets equal and quality education.
There should be insurance, like in developed countries, that every child will be entitled to education. When they grow up, they will not be concerned by enriching themselves.
Rather, they will look into making the world a better place. But only if poverty would have been eliminated by Africans working from within and ending the culture of handouts".