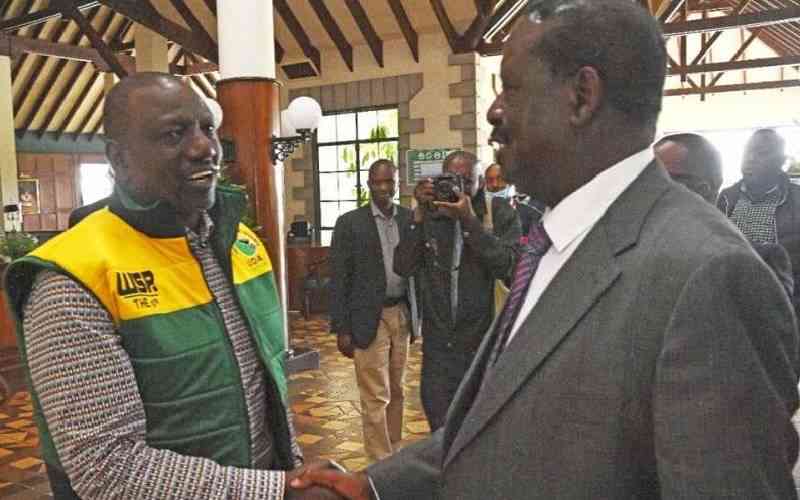 With three days to the elections, Azimio flag bearer Raila Odinga overtook his main rival Deputy President William Ruto in popularity surveys, shaping the contest for a two-horse race.
In the latest one conducted by Trends and Insights for Africa (TIFA) on Wednesday, Ruto was trailing with 42 per cent compared to Raila's 49 per cent.
But this has not always been the case. Polls conducted by TIFA and Infotrak towards the end of last year placed Ruto ahead.
Polls conducted as early as December 2020 showed Ruto was the most preferred for the presidency.
In a year that the country was ravaged by Covid-19, a poll by Infotrak showed Ruto was the most popular candidate with 44 per cent.
This was a double-digit lead against Raila's 13 per cent.
A November 2021 poll by TIFA also ranked Ruto as the most popular at 38 per cent compared to Raila's 23 per cent. This, the pollsters said, was pegged on Ruto's status as the deputy president and the campaigns he had mounted since 2017.
Although Ruto was still in the lead, his popularity had dropped by one per cent from 39 while Raila's remained constant as presented by an earlier survey in June 2021.
Raila however seemed to be gaining ground as he geared towards the announcement of his presidential bid on December 10, 2021.
A poll conducted by Infotrak on December 27, just two weeks after Raila's presidential bid announcement, placed him ahead of Ruto with a one-point lead. The survey said Raila's popularity stood at 33 per cent while that of Ruto was at 32 per cent.
Ruto would however regain the lead in February 2022 when a survey by TIFA ranked him as the most preferred presidential candidate at 38.7 per cent against Raila's 27 per cent.
The survey indicated that Ruto's popularity rating remained unchanged since its earlier poll in November 2021.
The tide would however change for the Kenya Kwanza Alliance flag bearer and what would follow was the depiction of a deputy president whose popularity was waning gradually while that of the opposition leader was growing.
In June 2022, yet another poll by TIFA placed Raila ahead of Ruto.
The survey, conducted between June 25 and 30, indicated that out of 1,300 respondents, Raila had managed 42 per cent of the vote while Ruto had 39 per cent.
Roots party's George Wajackoyah came in a distant third with four per cent while undecided voters stood at 14 per cent.
In July, a survey by Infotrak showed Raila's lead had widened to 43 per cent while Ruto's popularity dropped to 37 per cent. Only four per cent of the 9,000 respondents preferred Wajackoyah.
And when the campaigns entered the homestretch, so did the opinion polls; they started coming fast -- and three out of four conducted in the last week placed Raila ahead.
In the latest poll released by Infotrak, Raila emerged most popular candidate across the nine sub-regions with 49 per cent against Ruto's 42 per cent.
Prof Wajackoyah came in a distant third with only two per cent and Waihiga Mwaure was fourth with 0.3 per cent. Mwaure's numbers are notably lower than the number of undecided voters represented by six per cent.
In another poll by IPSOS, Raila was said to have a six-point gap against Ruto.
The poll relayed that Raila was a favourite thanks to his rich legacy as a democrat and a nationalist while Ruto appealed to the masses given his perception as a conveyor of hope and as a leader with a clear plan to uplift Kenyans.
It showed that Raila was the most preferred presidential candidate countrywide at 47 per cent against Ruto's 41 per cent.
The last was by TIFA on Wednesday. It was released on the last day allowed for pollsters to publish their findings-five days to the General Election.
It said that should the registered but undecided voters -- represented by eight per cent -- not cast their ballots, Raila would clinch victory in the first round of the elections.
Raila, they said, would garner a sturdy 53 per cent while Ruto would score 45 per cent. Wajackoyah is placed a distant third with two per cent against Mwaure's 0.2 per cent.
But even as the opinion polls' lifeline was cut short, they attracted a lot of criticism from the political class which has often dismissed them as inaccurate and unimportant to the political contest.
Some of the issues that have been raised about the opinion polls concern the ownership of the research firms and the sponsorship of the polls.
TIFA CEO Maggie Ireri said survey firms that conduct political opinion polls are required to ensure the questions they ask have minimal bias and ambiguity, to avoid misinterpretation by respondents.