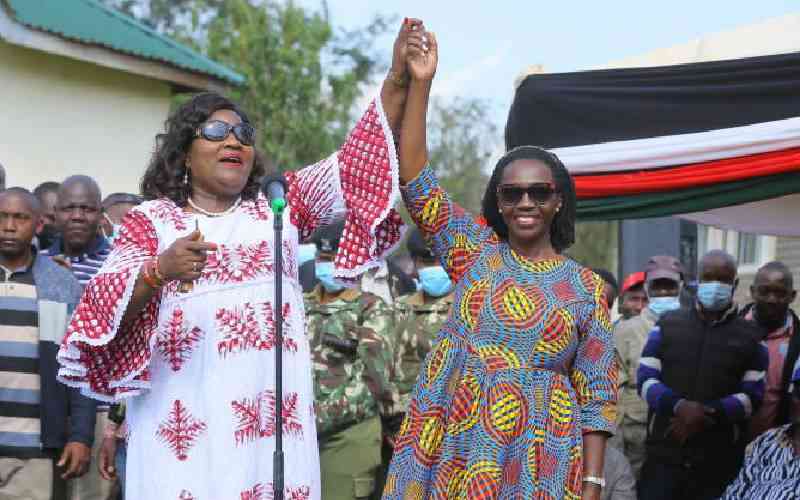 For Winnie Odinga, growing up as the daughter of Raila Odinga has not been a walk in the park.
Raila is now the Azimio la Umoja-One Kenya presidential candidate.
Winnie, a common figure in her father's campaigns, looks pretty much at ease atop a car on the campaign trail as she does when accompanying her father to a formal meeting.
Described as a hard worker and go getter, Winnie can be abrasive with her take-no-prisoners stance on social media earning her both friends and foe in equal measure.
But Winnie describes herself as an introvert, your 'ordinary girl next door', who doesn't consider herself special just because she is Raila's daughter. She talks fondly of her family and the desire to have normal routines like other families.
"Being Raila's daughter is nothing special as I am just any other member of the community. Now our family doesn't have Sunday lunch or going to church together but instead we go to campaign," she said on Spice FM's Double O Direct.
Winnie who describes her father as a 'family man' laments that the heavy political season has seen their tight knit unit miss out on spending time together.
She talks of the joy she derives out of working on her father's presidential secretariat and advising him on matters that touch on the youth.
But this too, she says requires tact and she has learnt the art of gauging 'the boss' mood before broaching some subjects.
"If I call and get a certain answer, I always prefer hanging up that call. You only talk to the boss when he is in good moods," she said, with a smile.
Winnie is also evidently excited by her father's selection of Narc Kenya leader Martha Karua as his running mate for the presidency.
This, she believes, puts him in good standing with many voters and presents the prospect of her becoming the first woman to hold office of deputy president should Raila win the election.
By occupying such a high seat within the executive Winnie believes Karua will be able to directly make decisions that will go a long way in empowering fellow women.
Ever the huge supporter of her father's candidacy Winnie is calling on Kenyans to elect him on August 9.
"It will be the first time Kenya will have a woman as a deputy president if we vote in Raila. Let's see what the impact that will have to the Kenyan women and that can only happen if we support their candidature," said Winnie.
"I urge you (women) to vote for that ticket if we want real change. We are at the reflection point and there is no more sitting on the sidelines. We have an opportunity to choose for ourselves."
She believes the Azimio manifesto will solve the problems bedeviling the country like unemployment, corruption and public debts given that the coalition party has a clear strategy of putting Kenya back on its feet immediately it takes over the government.
"Azimio manifesto is consumption heavy since a half of the budget is going on social protection, universal healthcare and provision of free university education. We want to manage the other half in creation of alternative sources of income to absorb our unemployed youth and grow our economy," she said.
Winnie believes that if the country will start producing her own branded products as opposed to exporting raw materials, it will grow the economy.
"With enough money the government will be able to repay foreign debts and reduce taxation pressure on Kenyans."
On her plans after the elections, Winnie says she wants to open a company that prioritises political consultancy in the continent, but for now her focus is on making Raila the next president.