It's Kitur, not Keter, to carry UDA banner in Nandi Hills MP contest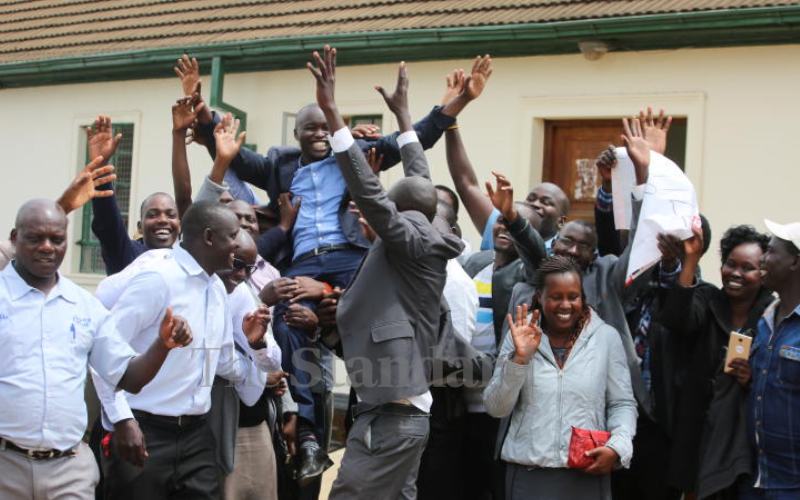 Hours after Nandi Hills MP Mr Alfred Keter's nomination was nullified, UDA finally settled on Mr Bernard Kitur as its candidate for the constituency in the August elections.
Mr Kitur, who successfully filed a petition to the party's elections dispute tribunal committee, was handed the certificate.
Malpractices, including voter bribery, intimidation and harassment of officials who conducted the nomination exercise on April 19 were cited, leading to revocation of Mr Keter's endorsement as the party's nominee.
At the same time, the tribunal directed the party's elections board to take "appropriate" disciplinary action against Mr Keter as provided in the nomination regulations.
Mr Kitur, speaking to The Standard on the telephone on Saturday, said the board awarded him the provisional nomination certificate in consideration of the party timelines and the illegalities that led to nullification of Mr Keter.
"The tribunal nullified the nomination certificate issued to MP Keter and the board gave the way forward on the matter," he said.
Mr Kitur and the other four parliamentary hopefuls for the Nandi Hills MP seat appeared before the board and were interrogated over their involvement in the cited irregularities.
Mr Kitur, who garnered 7,468 votes behind Mr Keter, who got 10,273, was also interviewed before being accorded the certificate, which was followed by demonstrations in Nandi Hills town on Saturday.
Prior to the parliamentary nomination, the UDA lawmakers had rooted for Mr Kitur in their efforts to kick out Mr Keter, who they accused of disrespecting and attacking Deputy President William Ruto, who is also the party's leader.
"I am confident that I will be elected Nandi Hills MP in August. It is a UDA zone and what the party stands for resonates with the electorate. I shall fully support DP Ruto's aspiration to become the fifth president of Kenya," Mr Kitur stated.