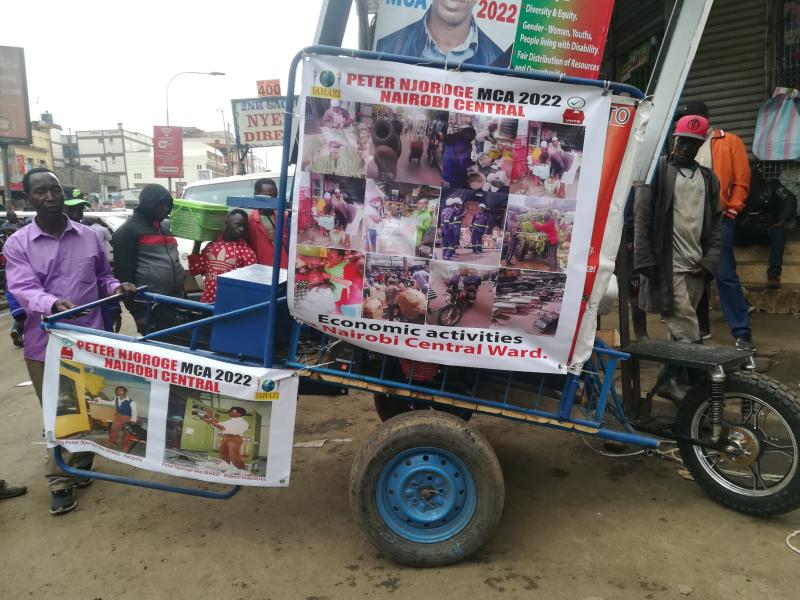 It is a chilly Thursday morning in Nairobi and Mr Peter Njoroge, is busy preparing his hand cart for the day's activities.
One by one, he picks various parts that he puts together to make one huge decorated handcart.
The handcart is equipped with a generator, 12 volts' battery and a loud sound system: audio mixer, amplifier and 2500 watts speakers.
Once the assembly is complete, the handcart becomes a full political campaign vehicle with photos and messages that Mr Njoroge says, has cost him about Sh160,000 to assemble.
The self-styled man, who has been the chairmen of mkokoteni association for seven years, says this is his campaign podium that he moves from one place to another in his bid to clinch Nairobi central MCA's seat.
The mkokoteni is branded with banners bearing photos of handcart pushers, boda boda riders, hawkers and shoe shiners with carefully worded messages.
"Diversity and equity, gender, women and youth, people living with disability, fair distribution of resources and opportunities for all," one of the banners reads.
In an interview with Sunday Standard, Mr Njoroge said the wording of his messaging is deliberate to resonate with the common person, who are his target audience and potential voters.
The father of two, attended Kebete Technical and pursued a Diploma in Mechanical engineering at the Kenya Polytechnic in mid-1980's.
Afterwards, Mr Njoroge joined KTTC to train as a teacher and furthered his studies to earn a bachelor's degree in mechanical engineering from Kenyatta University.
Unlike other aspirants, who ride on big cars, and run huge campaign caravans with huge speakers and rowdy singers, Mr Njoroge, who is running on an independent ticket only carts his mkokoteni across the city.
The special handcart has an extra wheel fixed behind it that rotates 360 degrees.
Mr Njoroge said this is the braking system of the handcart and comes in handy when turning.
"The extra wheel has powerful suspension meant to keep it stable in bumpy areas. It also has an automatic brake at the front," he explained.
And from the speakers, he said: "This is the voice of the common person. I identify with you because I am one of you. We must vote one of our own for us to sit at an equal table to discuss matters that affect us."
An engineer by profession, Mr Njoroge is the coordinator of Trolley and Hand Cart Pushers Association, a position he has held for many years after the company he used to work for closed down.
"In 2015, I was working as a plant engineer in a polythene company in Industrial Area. When the government started pushing for a ban on plastic use, the company fired many staff. Unfortunately, I was a victim," he explains.
"I had risen to senior level, I had known some people who owned distribution shops in Kamukunji and other traders in the city centre. I knew that selling in bulk would require a delivery plan," he said.
With the idea, Mr Njoroge bought five trolleys and approached a popular trader on Duruma Road and convinced him to lease the trolleys for regular deliveries.
"I knew people who had invested in trolley and mkokoteni business and when I came in, some were facing rough time in the hands of Nairobi City County askaris," he explained
For this reason, a group of handcart and trolley pushers tasked him with managing their trolleys, before he was elected the chairman.
And now, Mr Njoroge says the handcart is not only his symbol but if elected, he is planning to change the lives of cart pushers.
He said this is at the top of his agenda.
"The sector has employed over 3,500 youth, and that is why it is one of my flagship achievements since I took over. In fact, 70 per cent of young men in the boda boda sector were handcart pushers," he added.
He says hundreds of trolley pushers are university graduates.