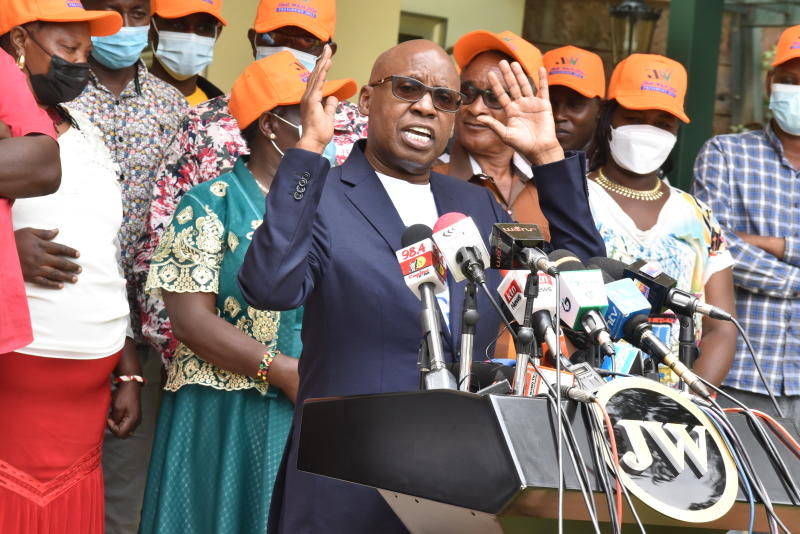 Businessman Jimi Wanjigi has accused the ODM top brass of using the Directorate of Criminal Investigations to lock him out of Saturday's National Delegates Conference (NDC) in Kasarani, Nairobi.
Mr Wanjigi claimed ODM leader Raila Odinga was behind his woes with investigative authorities, in a bid to scuttle his presidential bid.
On Monday, DCI boss George Kinoti gave the businessman 72 hours' summons and ordered him to surrender 11 guns and 480 bullets.
Wanjigi was accused of being in possession of a CQ, 2 Ceskas, a pistol, shotgun, Glock 19, Ceska, 2 Glocks, rifle and a Gilboa. He was also asked to explain the source of a Glock with the serial number URT 735.
But the businessman denied being in possession of the firearms and accused the DCI of political witch hunt. "I am consulting with my lawyers on the so-called summons. They are disingenuous, feeble and political witch hunt. DCI has maliciously and politically been violating my fundamental rights and freedoms by subjecting me to political persecution and repression," said Wanjigi.
To support his claims, he said in 2019, High Court ordered the state to return his seven firearms confiscated in 2017 during a raid in his house. The state did not. This led to a four month conviction of Mr Kinoti in November 2021, but "he has contemptuously defied court orders."
Wanjigi also dismissed reports by DCI that he had failed to comply with a December 2018 moratorium for vetting of Civilian Firearms Holders by Interior CS Fred Matiang'i.
"The court is supreme in this land. My licence to possess firearms was declared valid in 2019. I cannot answer to Matiang'i if the court has already pronounced itself," he said.
The businessman was further concerned by the timing of the summons, as it coincided with ODM party's National Delegates Convention slated for February 25 and 26. "Earlier I had warned that ODM leader Raila Odinga, with the help of President Kenyatta, has been using DCI to harass, intimidate and silence me. The last time they raided my offices, I had planned to give notice of a special delegate's congress," he said.
Wanjigi said ODM's National Executive Committee had illegally and expunged his name from the list of delegates to the NDC. This, he said, was done in December 2021 where many branch party officials allied to him were also barred from attending the NDC. "I have not received any notice informing me that I was removed as a delegate. For that reason I will be at Kasarani where I will be fighting for democracy. During the NDC we will also be seeking to know how ODM became a member of Azimio without following due process," said Wanjigi. The businessman claimed that, in yet another affront to the party processes, Raila had in 2021 attempted to "clandestinely" change the party constitution contrary to the Political Parties Act 2011.
The changes, he claimed, were meant to tinker with a requirement of a requisition of a special NDC. "When reason does not prevail, ODM resorts to using agencies that we fought to keep away. What they are doing is what Raila and I went through when they raided my home at Muthaiga 44," reiterated Wanjigi.
ODM Secretary General Edwin Sifuna declined to comment on the matter. "The matter is before the Political Parties Tribunal, which is expected to give a ruling on the same today."