Why all eyes are on Mudavadi as Ruto, Raila battle for State House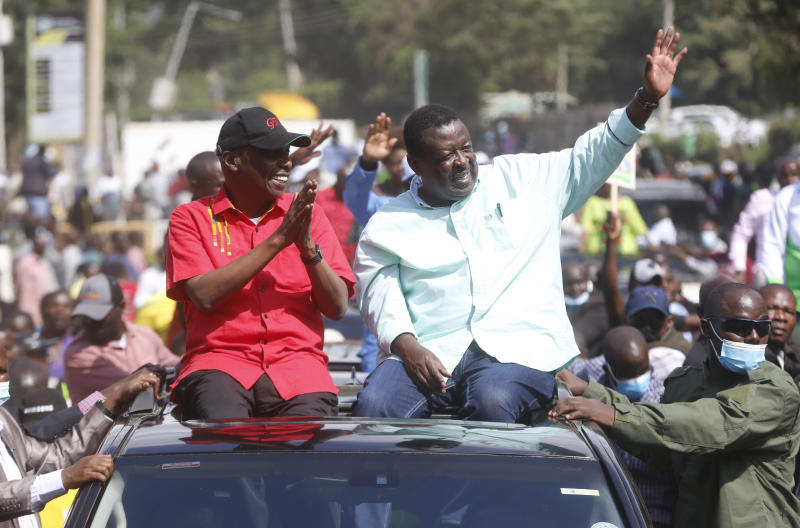 Musalia Mudavadi is easily the most-watched politician in Kenya today, despite the fact that Deputy President William Ruto and ODM leader Raila Odinga are the presumed favourites in this year's presidential race.
The ANC party leader has been slow in getting off the blocks. This is hazardous in a race in which the DP and his ODM nemesis jumped the gun, nearly four-and-a-half years ago.
Ruto and Raila began the competition soon after the March 9 handshake between the latter and President Uhuru Kenyatta, ignoring all rules of the game.
They quickly defined and positioned one another as the person to watch and began what has largely been an emotionally draining aggressive campaign against one another.
By the same token, they have left the rest of the pretenders to the throne, flat-footed.
But, perhaps, nobody who is interested in Kenya's highest office has seemed to be in a bigger quandary and sometimes hapless than Mudavadi. Even as he has laid claim to the throne, he has done little to demonstrate that he was serious.
A man of mild passions and slow motions, Mudavadi comes across as a person who believes in the goodness of human beings, to a fault.
His affable and trusting character are possible political assets in Western democracies, but certainly liabilities in the political rat race that is Kenya.
The late Dr Robert Ouko aptly described the Kenyan political arena as a forum of siasa za kumalizana (politics of annihilating each other).
Mudavadi seems at odds with this style, hence his penchant for playing catch-up when the political throat slitters have gone. He would appear to be, once again in that space, juggling the marbles of uncertainty.
Yet, Mudavadi is also a man whose every move for the next few weeks will be closely monitored because it is believed he commands quite a slice of the vote from Western and its diaspora in the country.
He must be courted for that vote, even by President Uhuru, who is not in the race but has a proxy dog in the fight, in the ODM leader.
As the plot thickens towards what is beginning to be taken for granted as a two-horse race between Raila and Ruto, the ANC leader has looked undecided and possibly without direction.
As a member of the One Kenya Alliance (OKA) formed last year, he has previously proclaimed that his name would be on the presidential ballot paper this August.
This is despite the understanding among OKA principals that they will find a formula for giving their banner to one of them, with the rest as the supporting squad.
Mudavadi has lately been low-keyed at OKA activities, however, amid speculation that he could be working on a separate deal with the DP.
The DP has himself stoked the speculation when, during his recent whirlwind stamping of Western, he has rhetorically asked the multitudes whether Mudavadi and Ford Kenya leader Moses Wetang'ula, should work with him or with Raila.
Pundits understand that a deal may be on the drawing boards, if it has not already been signed and sealed, among the three.
In converse, speculation is also rife that another OKA principal, Kalonzo Musyoka, could be headed into the Raila-Uhuru Azimio La Umoja axis.
This leaves OKA on unpredictable and shaky ground.
As a sign of what could be coming soon, Mudavadi skipped the OKA briefing of the principals by a joint technical bench of the constituent parties, on Friday.
Besides Mudavadi's ANC, Wetang'ula's Ford-K and Kalonzo's Wiper Party, other OKA members are Kanu under Gideon Moi, and new entrants Tujibebe Party of former Kiambu Governor William Kabogo, Martha Karua's Narc-Kenya and Cyrus Jirongo are also in the mix.
Also associated with the alliance is National Assembly Speaker Justin Muturi, who has announced that he is in the presidential race.
The absence of Muturi and Karua from the briefing, besides that of Mudavadi, has left the rest of the principals in the grip of confusion and anxiety, with the likelihood that something sinister could be cooking in the ANC kitchen.
But what could it be?
Mudavadi has a slate of four choices to pick from. He could call the bluff on the doubters and go the whole hog to the ballot box. This would be a tall order, however, especially with some of his troops now in flight.
Failure on his part to move quickly has transformed anxiety in some politicos in his corner into panic. And panic has given way to flight.
Accordingly, a number of MPs and MCAs have jumped from his ship to ensconce themselves in the wings of the ODM leader.
What is worse is that some of the decamping happened in Mudavadi's Western backyard, during the Azimio La Umoja December 31st Bukhungu Stadium meeting.
The assembly was fronted by Cotu Secretary General Francis Atwoli and Kakamega Governor Wycliffe Oparanya.
Mudavadi had been invited, but cold-shouldered it. The defection of his legislators in his own presence had been planned as the ultimate humiliation.
Political flight engines
The Kakamega events make Mudavadi's second choice most unlikely – that he could eat humble pie and go back to support Raila. It is still a choice on the cards, nonetheless.
To make this choice, however, is to drink not just from the cup of humiliation and affliction. It will come close enough to drinking from a poisoned political chalice.
Sources indicate Mudavadi's staunch followers in Western will find it difficult to go with him back to Raila.
Many, led by Kakamega Senator Cleophas Malala, are already warming up their political flight engines, ready to cast their lot with Ruto, should Mudavadi eat humble pie and join Azimio.
They are waiting keenly for the ANC National Delegates Congress next week.
Meanwhile, to blunt the anticipated effect of the NDC, Azimio has planned week-long roadshows in Western, with local language radio stations in the drama.
Mudavadi's third option in the unfolding scenario is to remain with OKA, and which is now doubtful. His prevaricating equivocation suggests that it could be an option that has already remained behind.
With time running out to the April party primaries, it is most unlikely that Mudavadi could still be with OKA by the end of next month (February 2022).
He badly needs to make whatever big move and announcement he has on his sleeves – if there is one – and begin mopping up what are left of his troops after the recent defections. For what it is worth, he could then engage in further action.
His fourth and last option is a tango with the DP. It is at once dicey and hopeful. It is dicey in the sense that the DP has been the punching bag in the political arena. He has taken a lot of beating on allegations of corruption, not least from the ANC leader and his troops.
There could be an element of duplicity in embracing the DP. Yet nothing is off limits in Kenyan politics.
Old friendships are discarded and new ones contracted in every electoral season. It would be interesting, however, to see how the narrative is turned around, in the event that Mudavadi chooses to go with the DP.
Conversely, there were many who always believed that a Mudavadi-Ruto alliance would be a sure bet to victory. A tango with Ruto, this late in the day, however, complicates matters for both, quite significantly.
Mudavadi is a political giant in his own right.
He can hardly be expected to be anything short of Ruto's running mate. Yet, Ruto has been giving all indications that his running mate will come from Mt Kenya.
A choice of Mudavadi for the number two slot will cause bad ripples in the Mountain. But the Mountain is set to remain slippery to the very end.
Between the two front runners, Ruto and Raila, the Mountain is a bad riddle, a political nightmare. If Kalonzo joins Raila, the expectations will be that he is the running mate.
This will place Azimio on the same horns of the Ruto-Mudavadi dilemma with the Mountain.
Whoever goes with Mt Kenya between the two is likely to carry the day. If both go with the Mountain, they open up the race to unknowable possibilities.
Yet, amid all this, Ruto has done a lot of work in the Mountain than anyone else.
If the OKA principals must play third fiddle because Raila and Ruto have given the second one to the Mountain, there would seem to be more logic in taking the fiddle from Ruto, in spite of all previous nasty words against him.
With the Rift Valley fairly airtight and the support from the Mountain fairly solid, Ruto could be headed for great things, unless OKA solidifies and goes to Azimio as a block.
The humiliation of a Ruto third fiddle could prove to be more short-lived and less taunting in the long term than one from Raila.
Holding everything else constant, it should not be surprising to see Mudavadi making peace with Ruto and going to this year's election with him.
And the day of reckoning does not seem to be too far.